Add these interactive phonics games to your collection of PowerPoint phonics games in your classroom.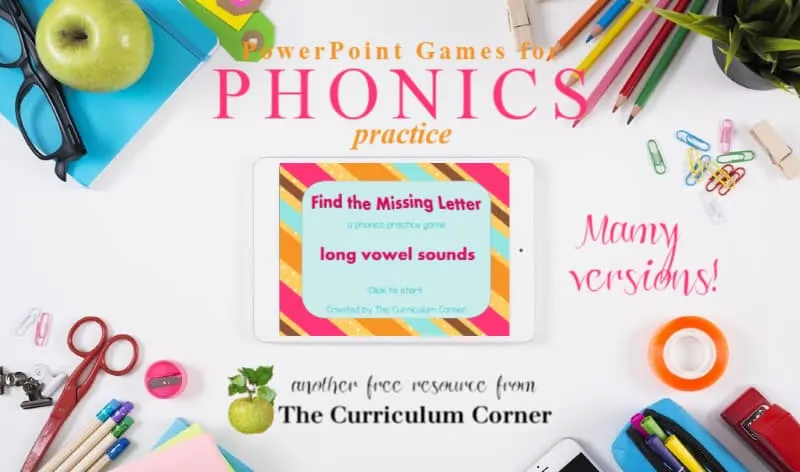 This is another free resource for teachers from The Curriculum Corner.
Our interactive phonics games will help your children practice basic phonics skills.
As the possibility of extended e-learning days increases across the country, we are working to add resources to our collection that students can work on at home.
Please continue to share your ideas and requests with us. While PowerPoint games might be great for students with access to technology in their homes, our biggest concern is those without the resources needed. If you have any ideas for these students, we would love to hear how we can help create free materials to help.
Of course, we also realize that no e-learning can replace the relationships and experiences in your classroom.
An Introduction to our Interactive Phonics Games
Our collection of interactive phonics games is designed for students in 1st and 2nd grades.
Each of our games focuses on a specific phonics skill.
Students will click on the answer. Incorrect answers will receive a buzz. Correct answers respond with applause.
Clicking on the correct answer will also move students to the next slide.
While the original intent of our PowerPoint games was SmartBoard use, these can also be used on a computer or iPad. Please note, the fonts might display differently on your iPad but the game will work if children have a PowerPoint app.
Interactive Phonics Games Included
We have started this collection by creating six games for students. We are happy to add additional games – please send us a message with any requests that would fit your students.
Students will be able to practice the following skills:
Magic e words
-ar, -er, -ir, -or and -ur words
Hard or soft c words
Short vowels (this game is available with and without the words on the slides)
Long vowels (this game is available with and without the words on the slides)
Beginning ch/sh/th
Ending ch/sh/th
You will need PowerPoint to be able to play these games.
You will also need the following fonts for the words to display correctly:
KG Miss Kindergarten (You can download this free font here: font download.)
Aharoni (This one should already be on your windows computer)
To start the game in PowerPoint, you will want to click view and then select reading view.
Interactive PowerPoint Phonics Games for 1st & 2nd Grades
Click on the images below to download each game.
---
Terms of Use
As with all of our resources, The Curriculum Corner creates these for free classroom use. Our products may not be sold. You may print and copy for your personal classroom use. These are also great for home school families!
You may not modify and resell in any form. Please let us know if you have any questions.
Clip-Art Designers
Thanks to the following designers for the super cute clip art!