These Fry PowerPoint Games will give your students Fry word practice with words 1 through 100.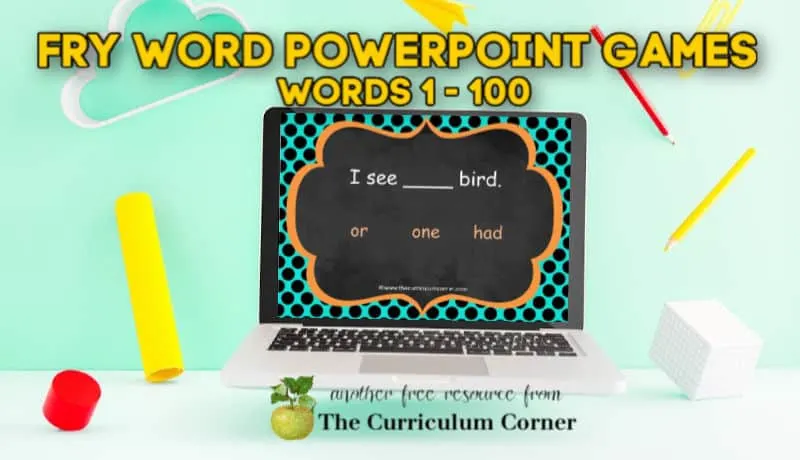 This is another free resource for teachers from The Curriculum Corner.
Add these Fry PowerPoint Games to your collection of sight word practice resources.
What are Fry Words?
Fry words are a list of sight words.
The Fry words are the 1,000 most common English words in print ed materials.
They are divided into groups of 100 so there are 10 Fry sight word lists.
The words are listed in order of frequency.
This Fry word resource contains the first 100 words. By completing these practice games, students will receive practice with the 100 most common words in English.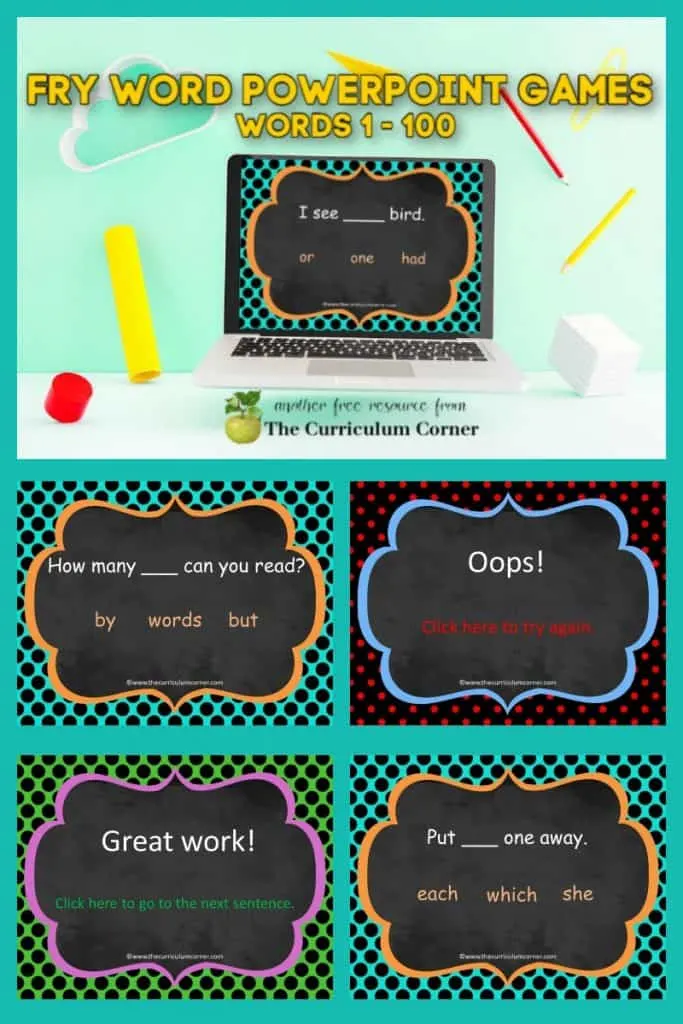 Our PowerPoint Games
Like our other PowerPoint practice games, this interactive practice is designed to be a free literacy center for your classroom. Students can work independently and receive immediate feedback on their answers.
As many teachers are moving towards classrooms with less paper, these types of resources for computer literacy centers can offer engaging practice.
This free game is designed to give your students skill practice after they have mastered reading most of the first 100 Fry words.
Set this up on your student computers for morning practice, during literacy centers. Or project it onto your Smart Board and guide your students through the slides discussing answers as you go.
One nice feature of this game is the immediate feedback students are provided. Correct answers throughout the game are praised with a praise slide! When students answer a problem incorrectly they are met with a "Try Again" slide and will click to be taken back to the original sentence for another attempt.
To begin practice a student will need to click on the words on the title slide and will immediately be taken to the first question. Once the student makes an answer choice, he/she will need to click on words on the feedback slide to be taken back to the original question or move on to the next one.
(Note: Students must click on the actual text for the slides to correctly work.)
The practice is created so that the final slide is linked to return to the first slide.
You can download these free Fry Word PowerPoint Games here:
Looking for additional PowerPoint Games? Start here
The Curriculum Corner's PowerPoint Collection
---
As with all of our resources, The Curriculum Corner creates these for free classroom use. Our products may not be sold. You may print and copy for your personal classroom use. These are also great for home school families!
You may not modify and resell in any form. Please let us know if you have any questions.