Book Study I Dissent: Ruth Bader Ginsburg Makes Her Mark
A collection of resources to help your students learn about Ruth Bader Ginsburg through reading.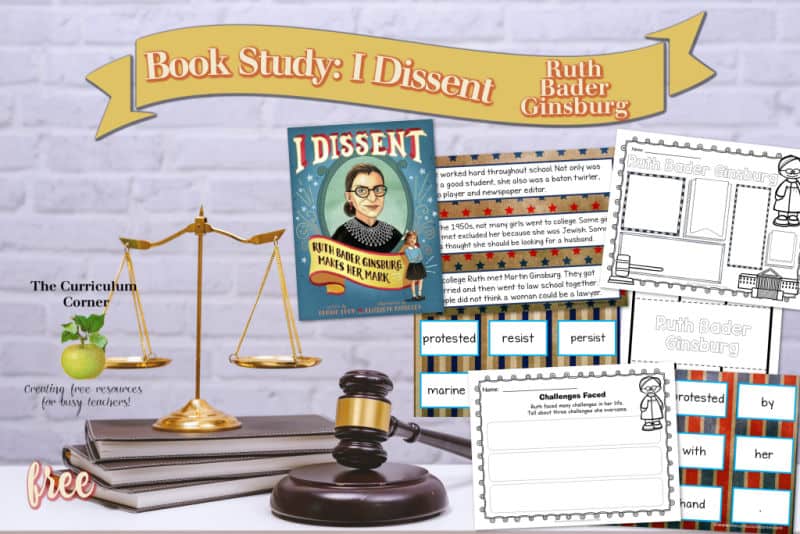 This is another free book study from The Curriculum Corner.
This collection of resources about Ruth Bader Ginsburg will help guide a study of the book by Debbie Levy in your classroom.
This book tells the story of a young girl growing up in a time when women were not encouraged to be independent in their work and thoughts. We learn the influence Ruth's mother had on the person she became and all she has accomplished.
While it is a picture book, there is much for older students to learn from the reading. The notes at the back also add to what we learn about Ruth.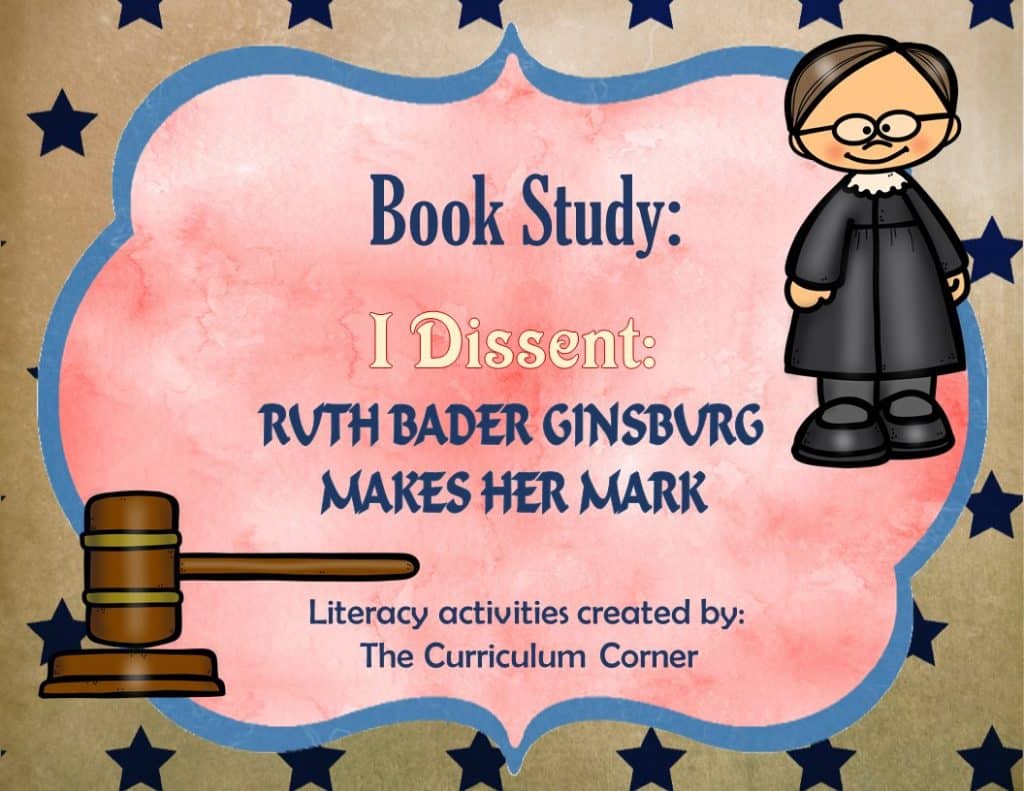 The beautiful drawings by Elizabeth Baddeley add to the story.
You can find the book on Amazon. (contains affiliate link)
**You will find the full set of resources in one download at the bottom of this post in BOLD font.**
What I Have Learned About Ruth Bader's Childhood This is a simple and open-ended graphic organizer students can use at a center after the book has been read aloud. Place the book at the center so students can use it to check the accuracy of their claims about what they have learned.
Life Highlights Encourage students to fill the page with words and pictures to tell about Ruth's life.
Fluency Sentences Use these sentences for fluency practice or sequencing to match the book.
Pocket Chart Sentence Cards These five pocket chart sentence cards can be a part of a mini-lesson or might be a scrambled sentence center.
Vocabulary Use this set of vocabulary words and definitions for a sorting center. Because of the words included in these cards, these might become a whole class activity. A whole class discussion would give you the opportunity to more deeply discuss the words.
Thinking About Ruth Bader Ginsburg – Synthesizing Activity Students share their thinking about their reading following the prompts. This organizer might be best for completing during class discussions depending on your students.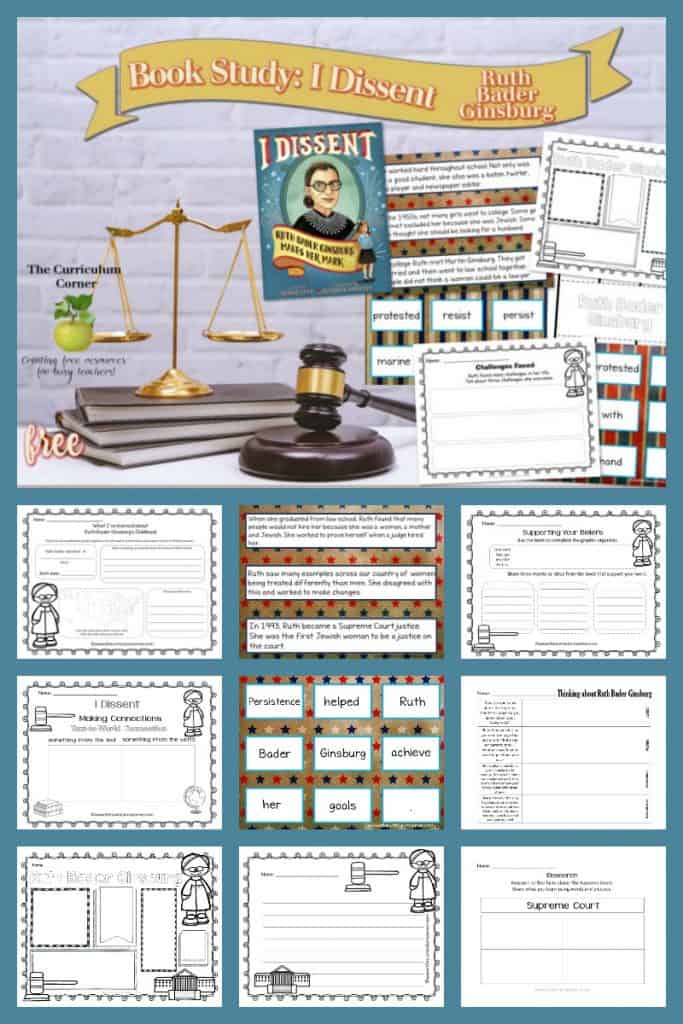 Problem & Solution Students are asked to share a problem Ruth faces. Students will then share ideas and steps to the solution in the three boxes on the right.
Challenges Faced Encourage students to share three challenges Ruth has faced in her life.
Support Your Beliefs This page is intended for use as a mini-lesson as you read the book together with your students. Students share one word they feel describes Ruth. They will then find three ideas from the book that will support the word. There are also character trait cards that you can use with this activity.
Reading Journal This interactive notebook page's use is up to you! You might have students share six important events in her life. Or, have them research to find six facts not included in the book.
Making Connections Encourage your students to make connections using these two printable pages.
Making Words Students use the letters in the words to create smaller words. Comes with a page of letters for students to cut out and manipulate to make the words.
Reading Response Pages There are two response questions you can share with students after reading.
Research Use the pages as an extension for students to practice their research skills.
Lined Papers
Looking for more book studies that focus on strong women? Check out these:
If you are looking for additional resources for your study on biographies, you will find our unit of study here: Biography Unit of Study
Here are a few other books you might want to add to your library (contains affiliate links):