Download this free summary writing scaffolding resource to help your children learn to write a summary after reading fiction.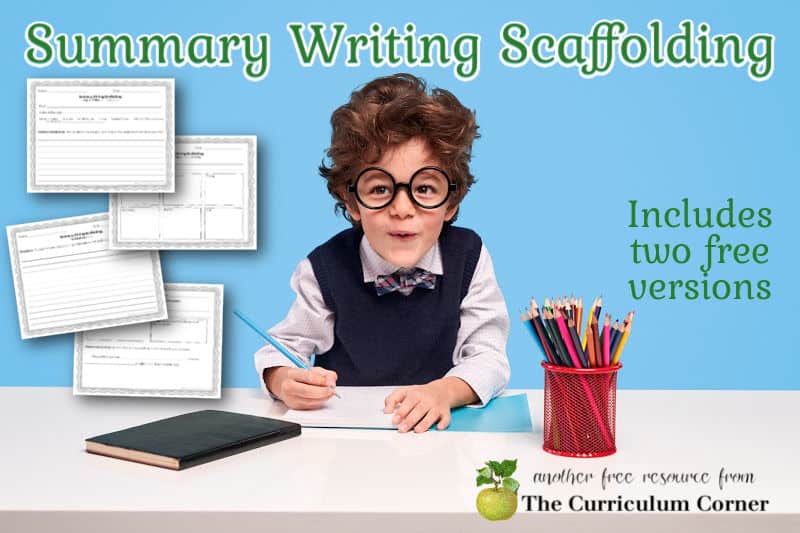 This is another free resource for teachers and families from The Curriculum Corner.
You can help children learn to write a fiction summary with this free writing summary writing scaffolding resource.
This is an older resource that we have remade. We hope you find this new version to be more helpful than the old one.
We felt that the old version was looking dated and missing some pieces that could be helpful.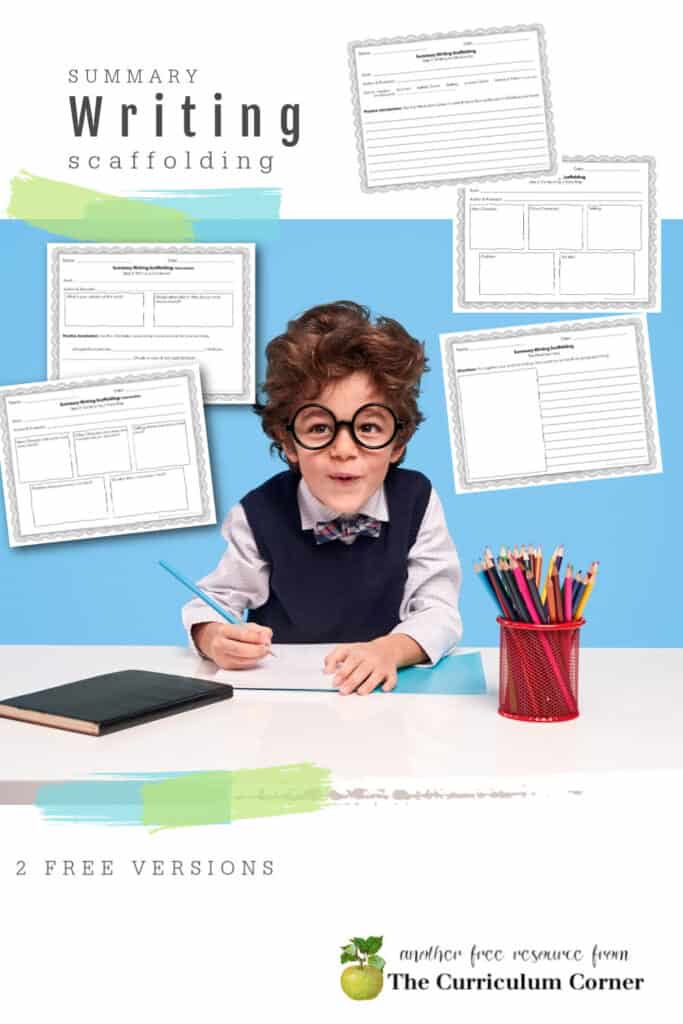 How to Write a Book Summary for Children
Wondering the best way to help your children write a summary after reading a fiction book?
The goal of these materials is to make this job easier – for you as the teacher and your students!
This scaffolding resource is designed to walk your children through each step.
It begins by helping children write an introduction. This will include the author and illustrator. Students will also identify the genre.
Next, children will get ready to write the summary by completing a story map.
This story map will be turned into a paragraph about their book.
Finally, students will give their reaction and write a short conclusion.
In the end, students will have a three paragraph summary of their book.
Summary Writing Scaffolding – Intervention Version
Along with the original version of the how to write a summary materials, we have added a second set.
This second set is designed to be used as an intervention – although some classrooms might find it is a good first step for everyone.
The idea behind this intervention for summary writing is to provide students with an outline to fill in.
As students are guided through each step, they will begin to see the parts of a summary.
After practicing how to write a summary with this guided resource, students will come closer to being able to complete this task independently.
You can download this free reading summary collection here:
Looking for other reading resources to help your students? Try these freebies we have created:
As with all of our resources, The Curriculum Corner creates these for free classroom use. Our products may not be sold. You may print and copy for your personal classroom use. These are also great for home school families!
You may not modify and resell in any form. Please let us know if you have any questions.