This free winter treats themed parts of speech sort is a fun way to give your students or children a little practice with a seasonal theme.

This is another free resource for teachers from The Curriculum Corner.
Grab your free winter treats parts of speech sort at the bottom of this post.
This free collection of colorful, winter treats themed cards will be a fun, new addition to your literacy centers.
We suggest printing these cards on card stock and laminating for durability.
This collection of cards will become an easy to assemble, parts of speech sort.
This set has been designed with a winter treats theme – complete with words relate to gingerbread, hot chocolate and cookies.
You will also find a set of cards without the colorful background for those of you needing to conserve color ink.
How to Use this Winter Treats Parts of Speech Sort
Our card set includes cards with parts of speech labels. Have students sort the cards into the correct categories.
We have also provided a blank page of cards. You can challenge students to add their own words.
Another option is expanding this sort as you focus on different parts of speech. You can program blank cards with words fit what you are focusing on in your classroom.
You will find a range of recording pages so that you may select the page that is best for your class. Or, easily differentiate this center by assigning an appropriate page to each student.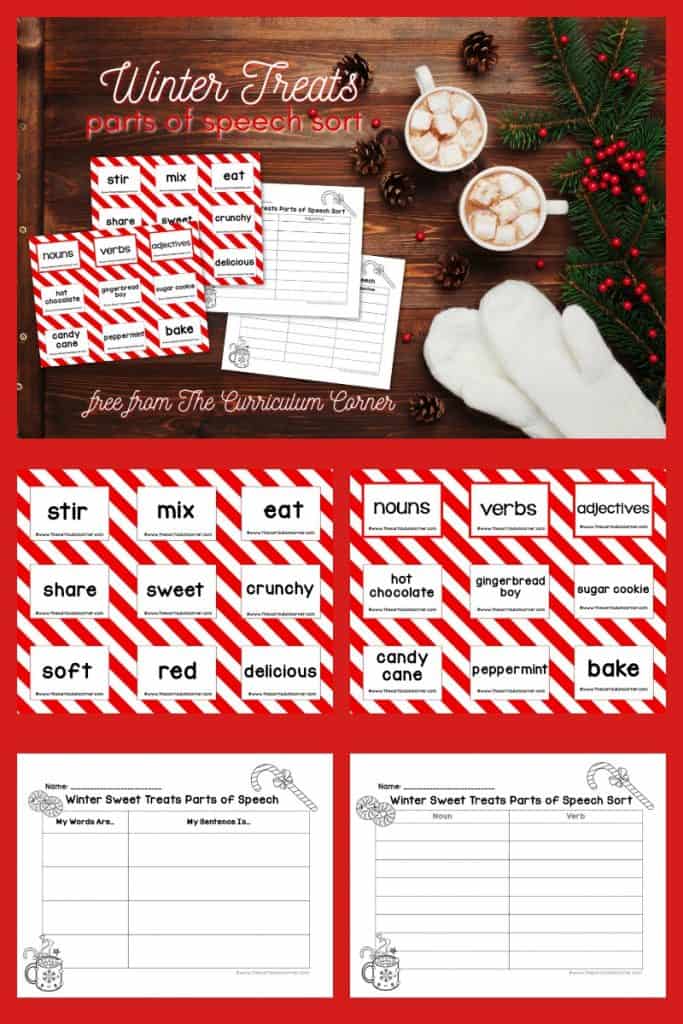 You will need to click on the bold title below to download the resource.
You can download this Winter Treats Parts of Speech Sort here:
You might also like these free resources:
I Have, Who Has Parts of Speech