This free focus on close reading resource helps you work with students on making connections as they read.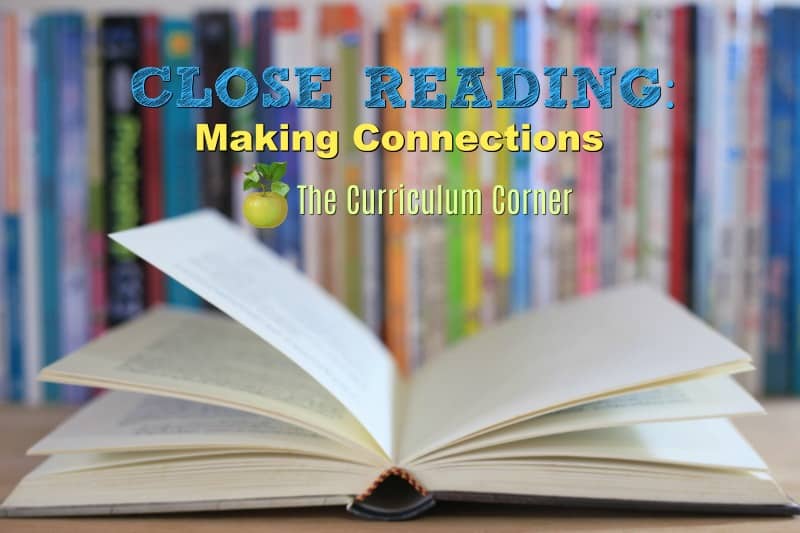 This is another free resource for teachers from The Curriculum Corner.
This informational text structures collection is a part of our series on Close Reading. If you are looking for additional free resources, please visit our Complete Close Reading Collection.
As you work to incorporate the skill of Close Reading into your daily classroom routine, you will find our set of free Close Reading materials a helpful tool.
One of our goals recently has been to learn more about Close Reading strategies. As an emphasis on Close Reading is becoming more common in classrooms across the country, we want to make sure we are providing our followers with tools to make this shift easier to implement.
As we read and learn, we believe that many strategies that are a part of Close Reading are probably happening without teachers realizing it.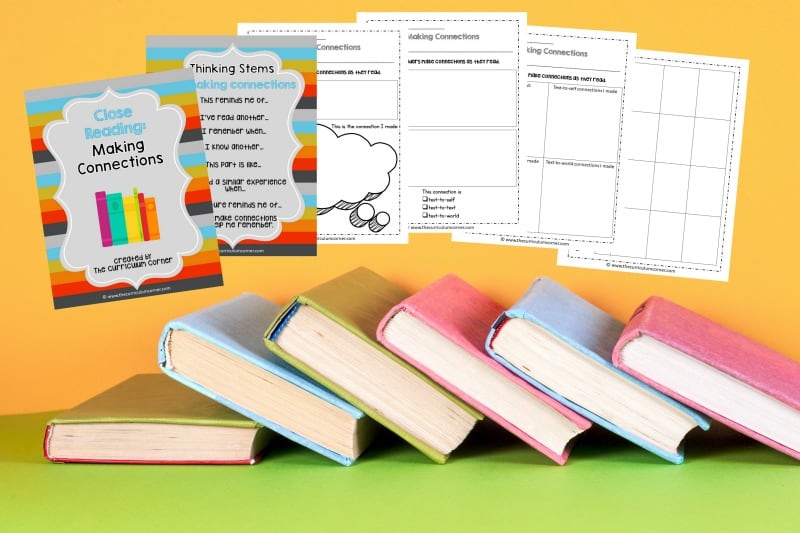 Why should teaching making connections be a part of my reading comprehension instruction?
As children learn to close read, it is helpful for them to be able to naturally make meaningful connections as they read.
The connections make it easier for children to understand the content they are reading. Hopefully this will build their reading comprehension skills.
This is a part of children learning to monitor for meaning. (See our previous post: Monitoring for Meaning for more information.)
Many times children who have reached fourth grade have had a great deal of practice with the skill of making connections while reading. However, we know that this is not always the case. And while many children have had exposure to the idea of making connections, not all are skilled at making connections that add to the understanding and meaning of the text.
For this reason, we have compiled a collection of graphic organizers and other resources that can be used for children who need review or need to be taught the skill of making connections.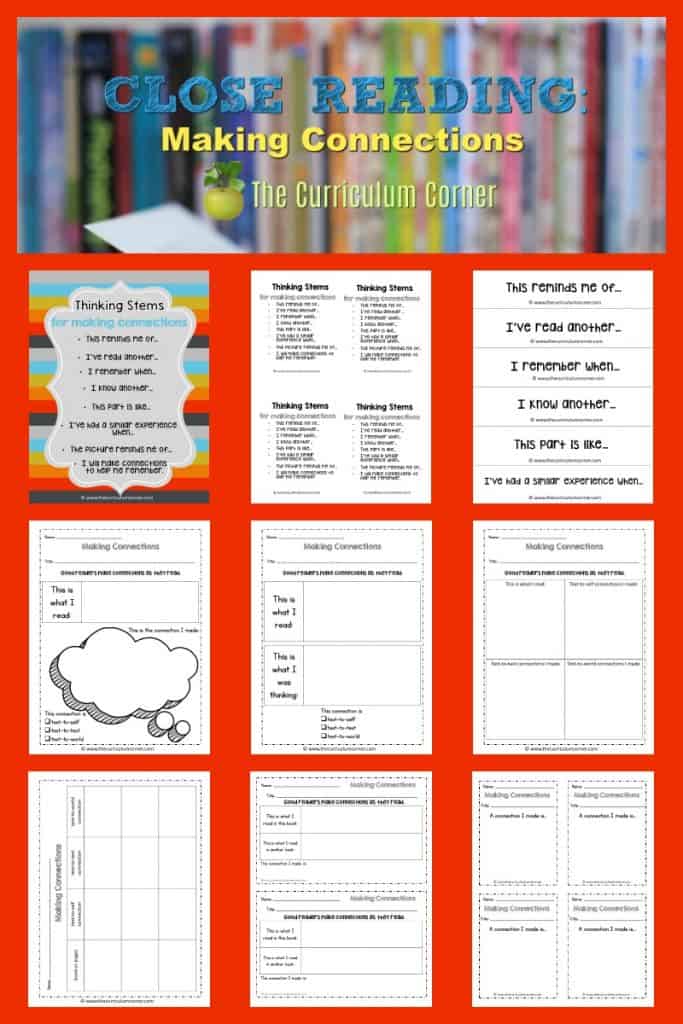 What connections might students make?
If you are new to close reading or reading workshop, this might be a new phrase.
Those of you familiar with connections, can skip this section.
First of all, students are making connections to build meaning and understanding as they read. If they can connect something into the text with a familiar concept, it will be easier to fully understand.
This can be a reading strategy students use to build their comprehension skills.
There are three types of connections we are focusing on in these resources.
Text to Self As students read, they think of how they are reminded of something that has happened to them. A text to self connection might happen when a character experiences an event the reader has. In informational text, a text to self connection might occur when reading about the Rocky Mountains and the students remembers a trip they have taken their.
Text to Text This type of connection happens when a reader is reminded of another book.
Text to World A connection like this one occurs when a reader thinks about general knowledge of the world when reading. It might connect to a historical event or a current event in the news. Students will think of real world events.
Our Making Connections Collection
Thinking Stems
This anchor chart is provided in color and in black and white. These thinking stems can be used to help your students get started when they are talking about our recording their connections.
Mini Thinking Stems
These are a smaller version of our anchor chart. These can be cut apart and placed in an interactive notebook for student reference.
Bookmarks
Students can mark their connections while reading with these bookmarks. There are a variety of stems to help get students thinking.
These bookmarks are provided in color and black and white.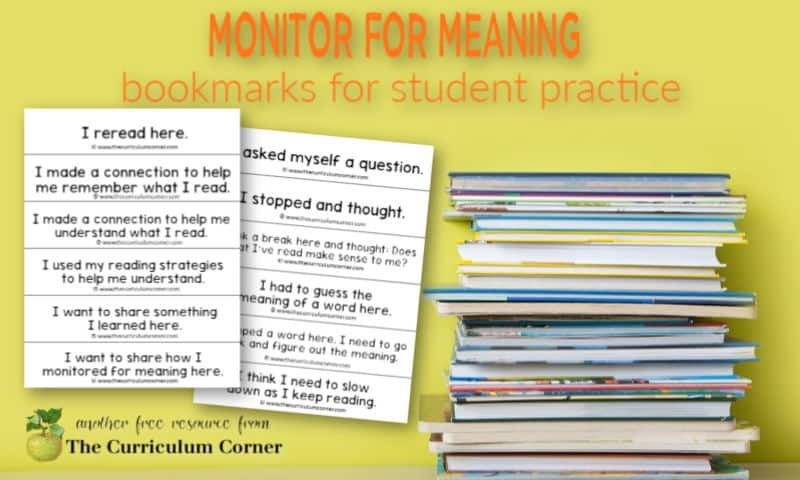 Graphic Organizers
We have created an assortment of graphic organizers.
These can be used to help students record their thoughts when making connections.
You might also choose to print and laminate these. You can place them at a reading center along with a dry erase marker. Students can record their thoughts before a discussion and erase after.
Exit Tickets
These exit tickets can act as a quick check in or assessment. Monitor how students are progressing in making connections with a simple response.
---
We love the example Sandy over at ELA Everyday helped her students put together in their reading notebooks.
She has some great printables for students to visualize what is happening as they make connections.
You will find them here: Making Connections by Sandy. (Thanks for letting us share your picture and post, Sandy!)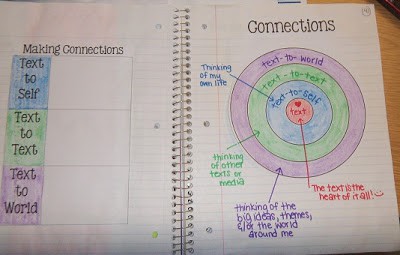 ---
As with all of our resources, The Curriculum Corner creates these for free classroom use. Our products may not be sold. You may print and copy for your personal classroom use. These are also great for home school families!
You may not modify and resell in any form. Please let us know if you have any questions.
You may not modify and resell in any form. Please let us know if you have any questions.