This free focus on close reading resource helps you teach students about how to monitor for meaning as they read.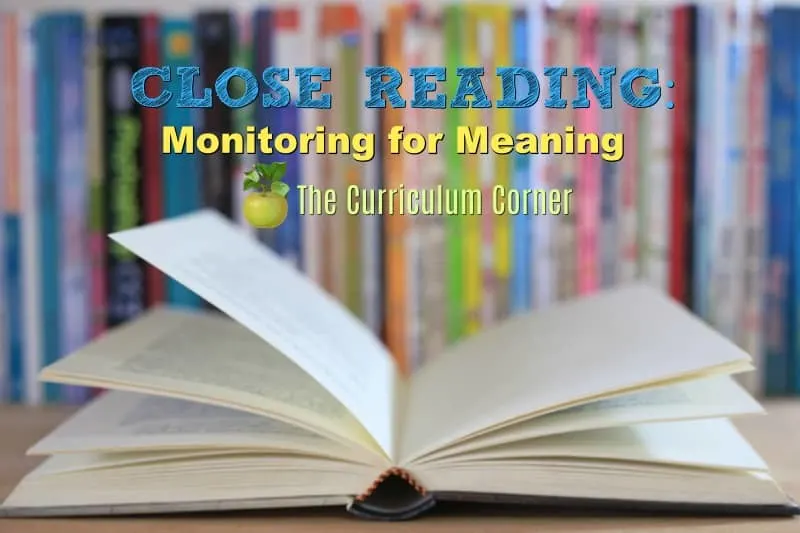 This is another free resource for teachers from The Curriculum Corner.
This monitoring for meaning collection is a part of our series on Close Reading. If you are looking for additional free resources, please visit our Complete Close Reading Collection.
As you work to incorporate the skill of Close Reading into your daily classroom routine, you will find our set of free Close Reading materials a helpful tool.
One of our goals recently has been to learn more about Close Reading strategies. As an emphasis on Close Reading is becoming more common in classrooms across the country, we want to make sure we are providing our followers with tools to make this shift easier to implement.
As we read and learn, we believe that many strategies that are a part of Close Reading are probably happening without teachers realizing it.
Good readers monitor for meaning as they read!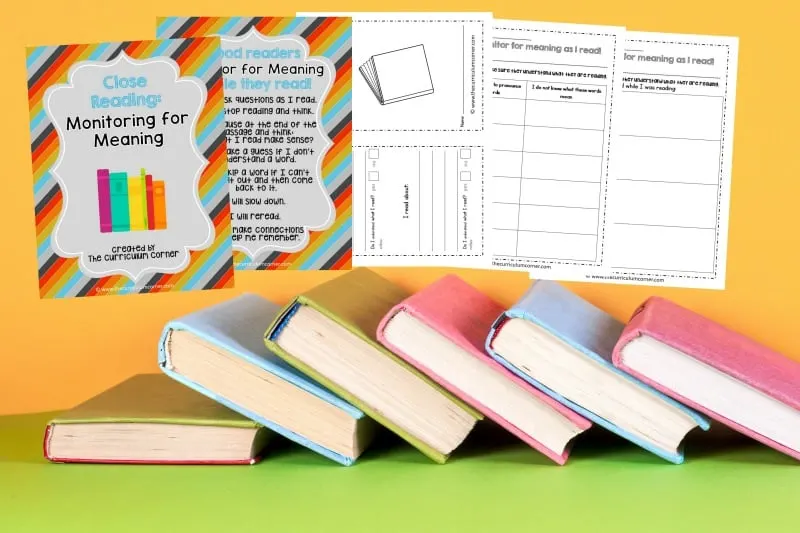 Our focus in this post is on self-monitoring, a skill which is probably not new to most. However, it can be difficult to teach so the more resources you have, the better, right?
What is monitoring for meaning?
Monitoring for meaning occurs when students learn to listen to their inner voice as they read. This does not come naturally for all students so teaching this skill can be helpful.
When students are listening to this inside voice, they are able to stop and think when something does not make sense. This is an important step for beginning readers.
As students get older and begin reading to learn, it is still crucial for them to listen to that inner voice. That voice can help them develop meaning and understanding of the text as they read.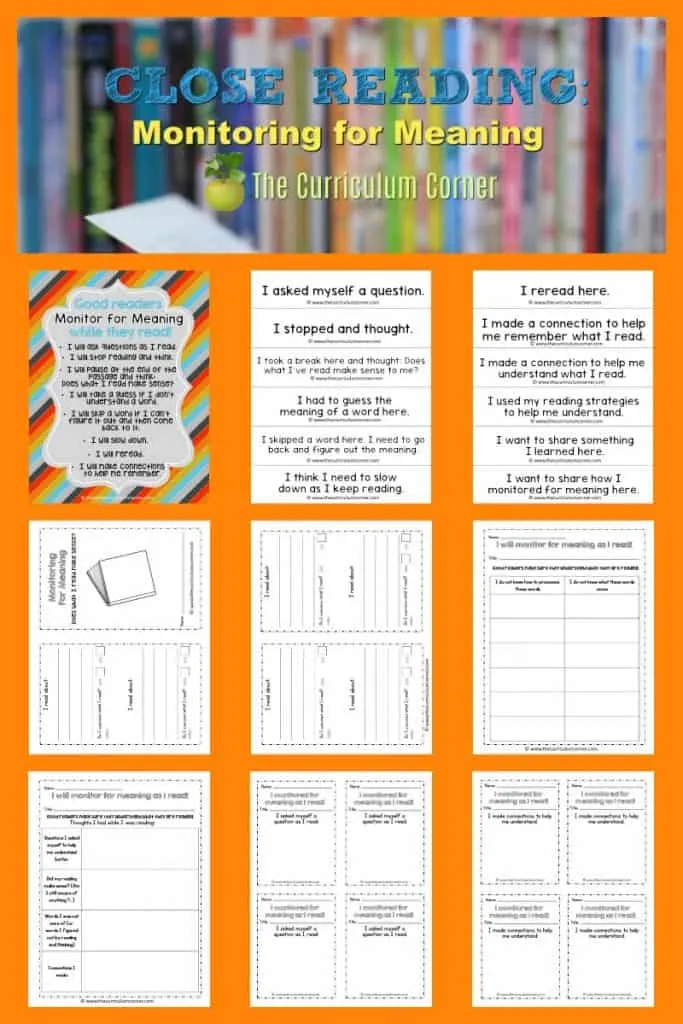 Our Monitoring for Meaning Collection
Self-Monitoring Anchor Chart (in color and in black and white)
You will find a list of what good readers do when reading.
This chart is designed so that it can be used as a pledge at the beginning of your reading block as you focus on monitoring for meaning. Students add "I Will" to each strategy listed.
Monitor Bookmarks
You will find two pages of bookmarks. These contain the skills from the anchor chart.
Our bookmarks are designed for students to use as they are trying to build a habit of monitoring as they read.
Students will choose a bookmark that highlights the strategy they are using and mark a page. These can be used to prep a student for a class discussion, a reading conference or small group meeting.
Be sure to model your expectations for how students will be using these bookmarks.
You will find the bookmarks in black and white and color.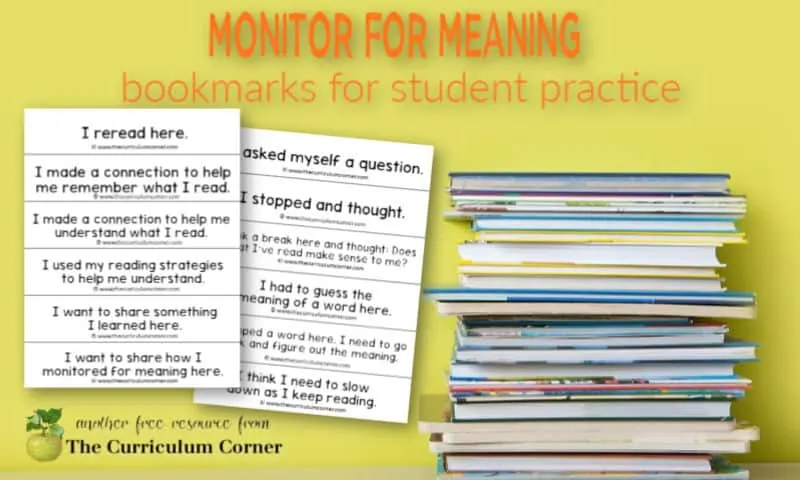 Monitoring for Meaning Booklet
One part of monitoring for meaning is making sure the reader understands the text Students must be taught to stop, think and ask: Does what I read make sense?
We suggest lots of modeling to help students begin doing this on their own. As you read aloud, stop after each section and ask yourself questions out loud. Show children your thinking.
Once children are ready to try this skill on their own, you can use our Self Monitoring Booklet. Have students record what they read from each section. You will need to specify how the reading is broken down. Paragraphs? Pages? Chapters? Make sure your students understand the expectation before they start.
Reading Unknown Words
Are there words getting in the way of your students fully understanding the text?
It is important to teach children how to use their detective skills to determine the meaning of words they are unsure of.
Use this graphic organizer to encourage children to record words they do not know. Again, this gives you the teacher more information to guide your reading lessons during conferencing or small group instruction.
Monitoring for Meaning Chart
When students understand the process of monitoring for meaning, this graphic organizer can be used to help them show you their thinking.
We like having students use an organizer such as this one because it helps us as teachers to find the spot where students are struggling.
Again, to help students fully understand this skill, we suggest modeling what using this chart will look like. This might also be a good skill to reinforce in a small group for students who need more practice.
Exit Tickets
These quarter page exit tickets can be used as a check in.
You might allow students to choose their focus or choose for students if you would like them to focus on a specific strategy.
During independent reading, students will complete their exit ticket so that they can share their thinking.
These are a quick check that can give you a glimpse into student thinking.
You can download our free Monitoring for Meaning set here:
Looking for Additional Resources?
Monitoring for meaning while reading involves many steps. For this reason, we feel like this is a skill that will need to be broken down for most classrooms of students.
You might begin by teaching students how to ask questions as they read. For this, you can refer to Asking Thick and Thin Questions. This is one of our previous posts on close reading. You will find resources for helping children learn to ask meaningful questions while reading.
Making connections while reading is another strategy that can help students develop a deeper understanding of their reading. Often, in the upper grades, students already have an understanding of this skill.
You will find graphic organizers to help your focus on connections here:
We feel like our previous post on readers using think marks is another take on monitoring for meaning. You will find it here: Using Think Marks.
If you are looking for another anchor chart idea, check out the chart Nancy created with her class over at Teaching My Friends. She did a great job explaining her lesson and we think you will love her anchor chart. Believe us, it worth hopping over to her blog to check out her ideas on this topic!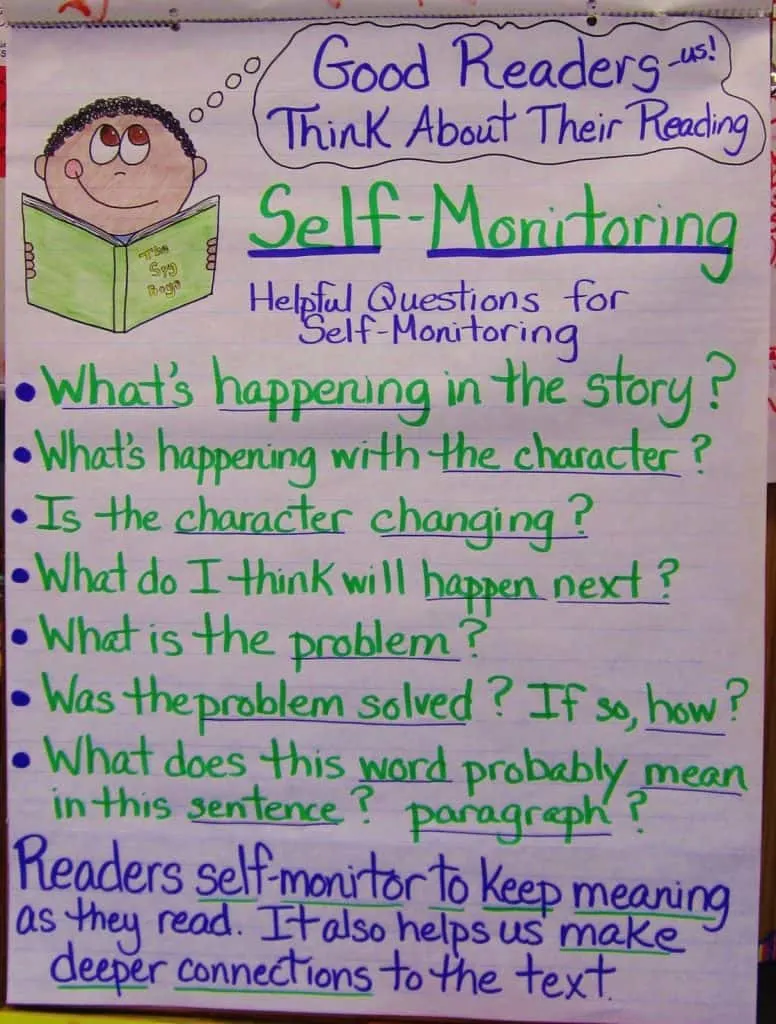 What strategies do you use to help your students monitor for meaning while reading? We would love for you to share below!
---
As with all of our resources, The Curriculum Corner creates these for free classroom use. Our products may not be sold. You may print and copy for your personal classroom use. These are also great for home school families!
You may not modify and resell in any form. Please let us know if you have any questions.
You may not modify and resell in any form. Please let us know if you have any questions.