Download these free printable current events worksheets to help children record their learning in the classroom.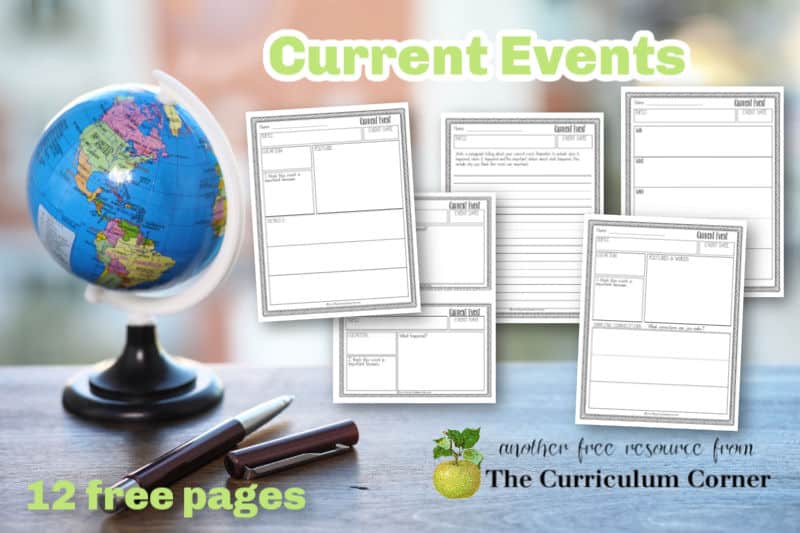 This is another free resource for teachers and homeschool families from The Curriculum Corner.
This collection of free printable current events worksheets is just what you need to begin your current event focus in the classroom.
Studying current events can be an important part of helping students learn about the world around them.
It can also be a way to give students real-life reading practice along the way.
Studying informational text is important as children become better readers.
There is so much for students to learn from studying current events.
Because not all children learn in the same way, this collection contains an assortment of current event worksheets.
You can choose the current event printable that fits your current focus. Or, provide students with choices. They can choose the page that fits the current event they are studying.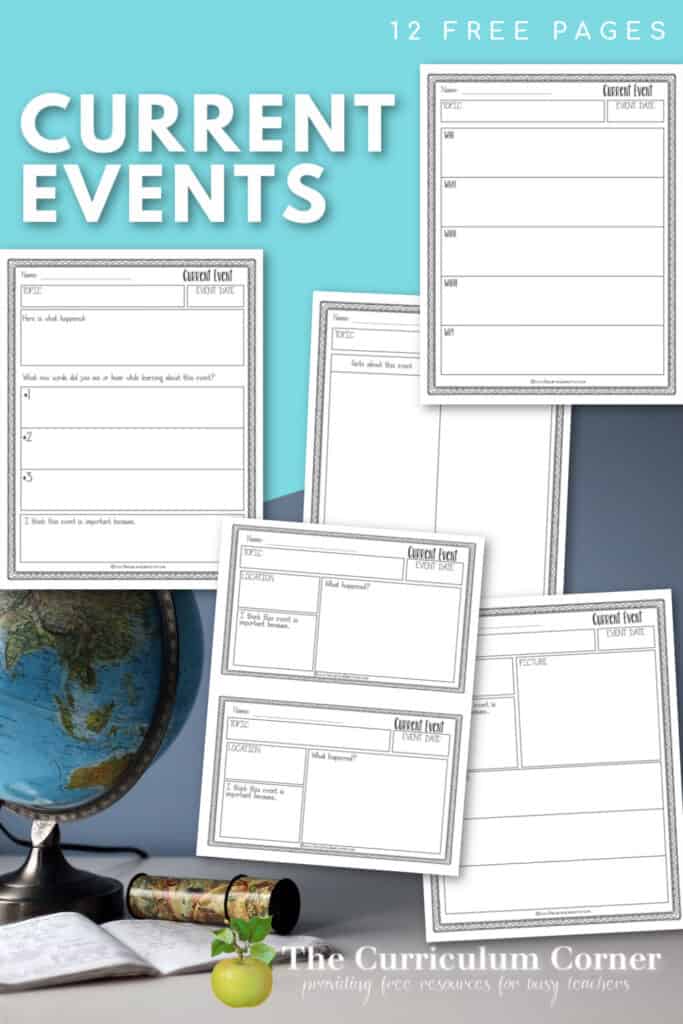 These printable current events worksheets
This PDF download contains twelve pages.
Within the pages, students will be looking to identify the following:
Topic
Event date
Location
Reason the event is important
Details of what happened
Picture of event
Details about event
Connections (students can be encouraged to think about text to text, text to world or text to self)
Vocalary
Fact & opinion
Summary writing
Some of the pages include spaces for words and pictures. In these spaces encourage children to simply share their thoughts. These pages might resemble sketch notes pages where words and pictures are randomly scattered around the page.
These pages will be meaningful because they encourage children to respond in different ways. Not only will they be reading and processing what they read, they will also be writing and drawing about their reading.
You can download this free collection of current events pages here:
Looking for other resources for your classroom? You might like these freebies we have created:

As with all of our resources, The Curriculum Corner creates these for free classroom use. Our products may not be sold. You may print and copy for your personal classroom use. These are also great for home school families!
You may not modify and resell in any form. Please let us know if you have any questions.