Use this set for teaching Latin roots during word work time in your fourth, fifth or sixth grade classroom.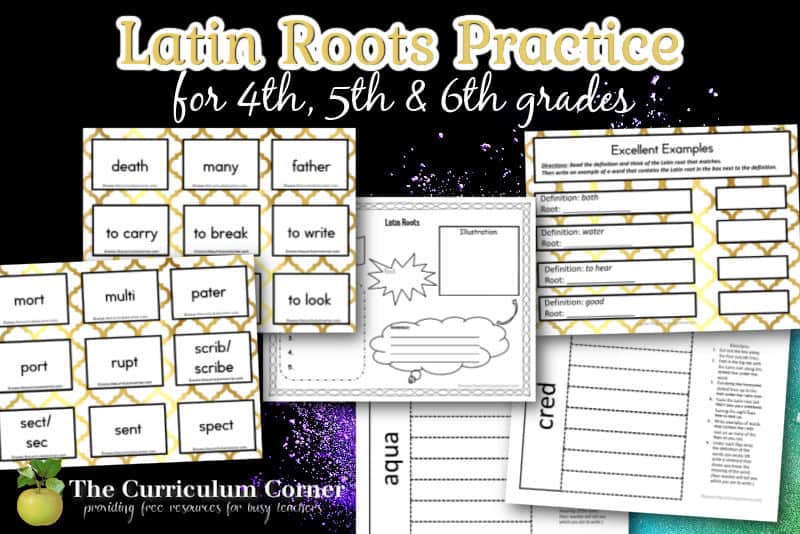 This is another free resource for teachers and families from The Curriculum Corner.
This set for helping you with teaching Latin roots will be a perfect addition to your Greek and Latin Roots collection.
Knowing the meanings of common roots can give students such a boost when it comes to vocabulary and comprehension.
We have designed these resources as a way for students to learn some of these word parts independently at a center. Or children can work on finding them in their reading & recording them on pages of an interactive language notebook.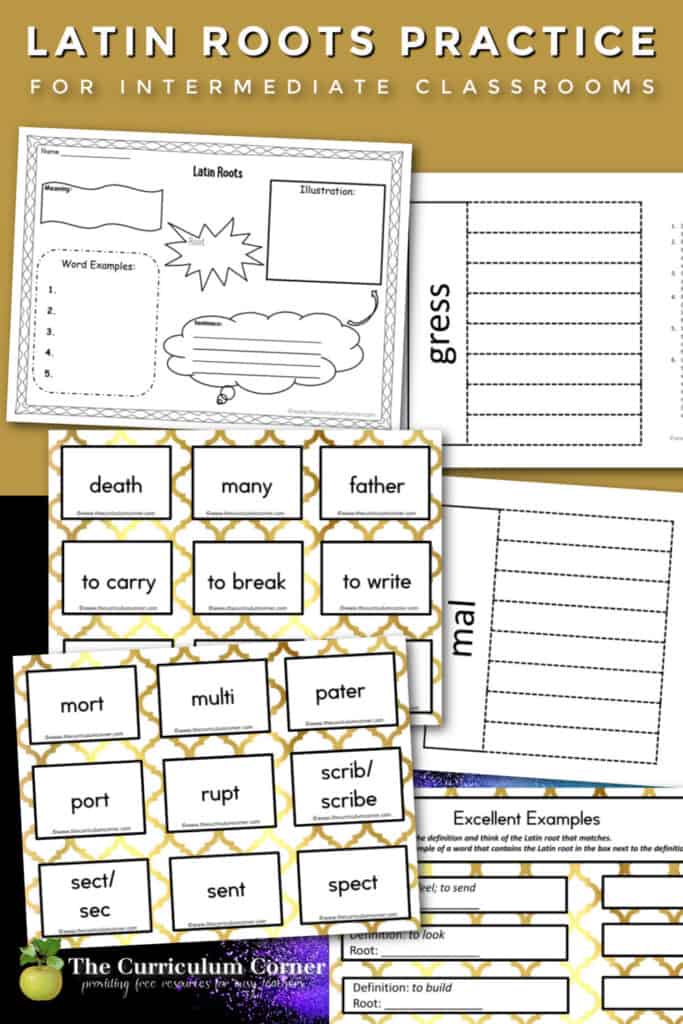 Our collection includes the following activities for teaching Latin roots in a single PDF download:
Matching Cards – Print, cut and laminate these for a quick and easy center game that will help your students memorize the Latin roots and their meanings.
Latin Roots At-A-Glance – Copy this page and place it on a bulletin board for quick reference for students or copy the black & white version for students to place in a binder or notebook.
Word Map – This page can also be used for interactive notebooks or to introduce and help students learn other Latin roots they find.
Excellent Examples Work Mats – Copy and laminate these pages for a quick review center for groups.
Interactive Notebook Pages – These pages are meant to be cut and added to interactive notebooks. (You may choose to shrink them if you want to fit more than one on a page.) Students cut them out and glue them into their notebooks. As they find examples of words containing these Latin roots, they write them on the flaps and add the definition or a sentence underneath.
We have updated this root word collection to include all of the resources with a plain white background along with the original version.
You can download this word work set here:
Looking for other word part resources? Try these freebies we have created:
As with all of our resources, The Curriculum Corner creates these for free classroom use. Our products may not be sold. You may print and copy for your personal classroom use. These are also great for home school families!
You may not modify and resell in any form. Please let us know if you have any questions.
You may not modify and resell in any form. Please let us know if you have any questions.