Download this perfect verb tense activity to help children begin to understand and explore the perfect tense.
Our perfect verb tense practice is designed to help children work on conjugating verbs into the perfect tense.
Keep reading to learn more about perfect tense!
This is another free resource for teachers and homeschool families from The Curriculum Corner.
What is the perfect verb tense?
The perfect verb tense is referring to an action that has been completed. It is referring to an action that is finished.
There are three main tenses. They are past perfect, present perfect and future perfect.
The past perfect tense refers to an action that happened before another event in the past.
Here is an example: I had walked to the park before dinner.
The present perfect tense refers to an action that at an unspecified time in the past.
Here is an example: I have walked to the park
The future perfect tense refers to an action that happens in the future and has a specific end date.
Here is an example: I will have planted the seeds before gardening club tomorrow.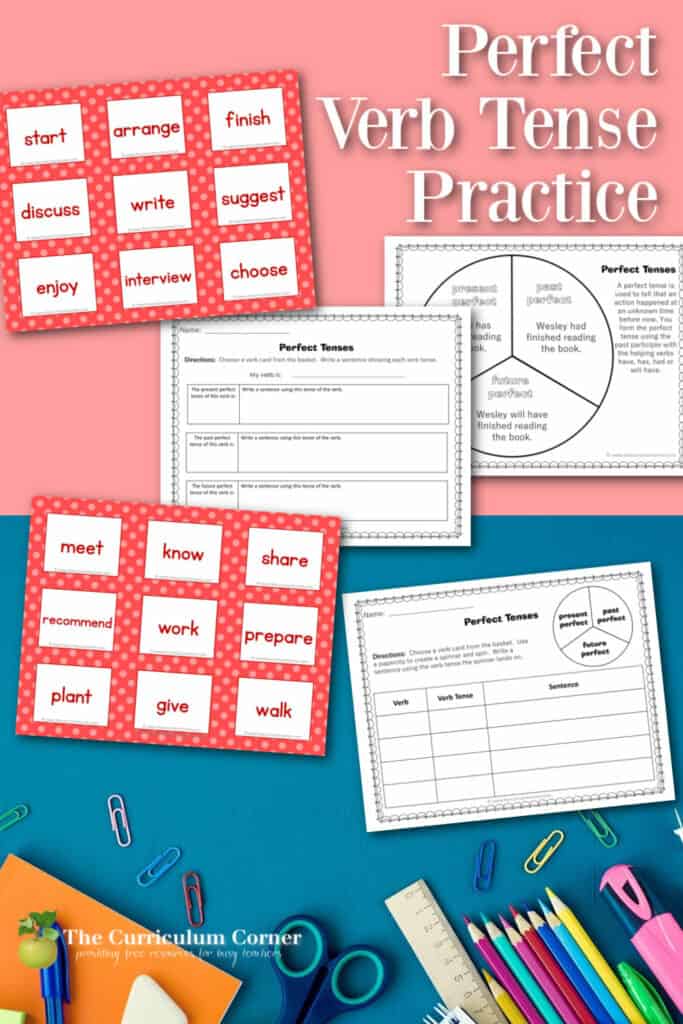 About this set
This set includes 18 cards containing verbs along with a spinner and recording pages.
Print the verb cards on heavy white cardstock. Next, laminate and cut apart the cards. Place the cards in a basket.
Students use a paperclip and their pencil to create a spinner. They will choose a verb card, spin and then write a sentence using the verb and the tense they landed on.
We have also included a guide to creating the perfect tense for students who need assistance.
You can download this free set here:
This activity will help you address the following standard:
CCSS.ELA-LITERACY.L.5.1.B Form and use the perfect (e.g., I had walked; I have walked; I will have walked) verb tenses.
Looking for other free resources to help you teach language skills? Try these freebies we have also created:
As with all of our resources, The Curriculum Corner creates these for free classroom use. Our products may not be sold. You may print and copy for your personal classroom use. These are also great for home school families!
You may not modify and resell in any form. Please let us know if you have any questions.