These Farm Virtual Sub Plans will help you create your own sub plans for your distance learning.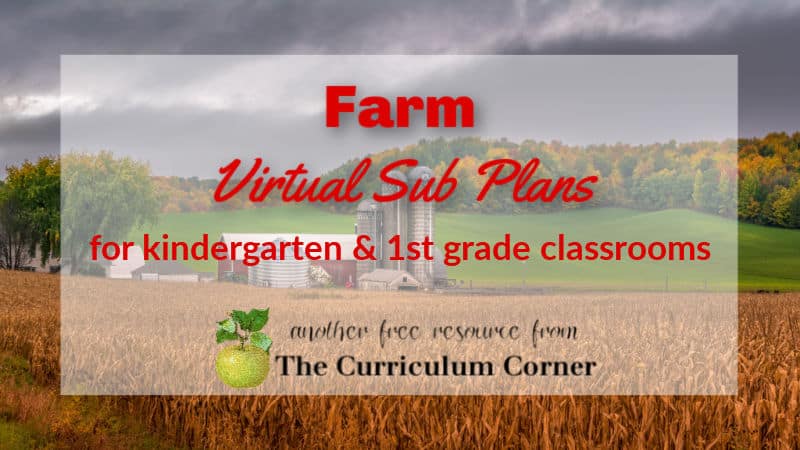 This is another free resource for teachers from The Curriculum Corner.
Use these Farm: Virtual Sub Plans to help you pull together distance learning sub plans for your kindergarten and first grade students.
This is our third set of virtual sub plans. We hope these help teachers of younger children who are needing to create their own emergency sub plans for distance learning.
In creating this newest collection, we worked to include a range of digital activities. We realize that not all of the activities will fit into all classrooms in this range.
We believe that using these resources, you will be able to plan out more than one day of virtual instruction.
The farm theme was chosen to fit into topics you might already study in the younger grades.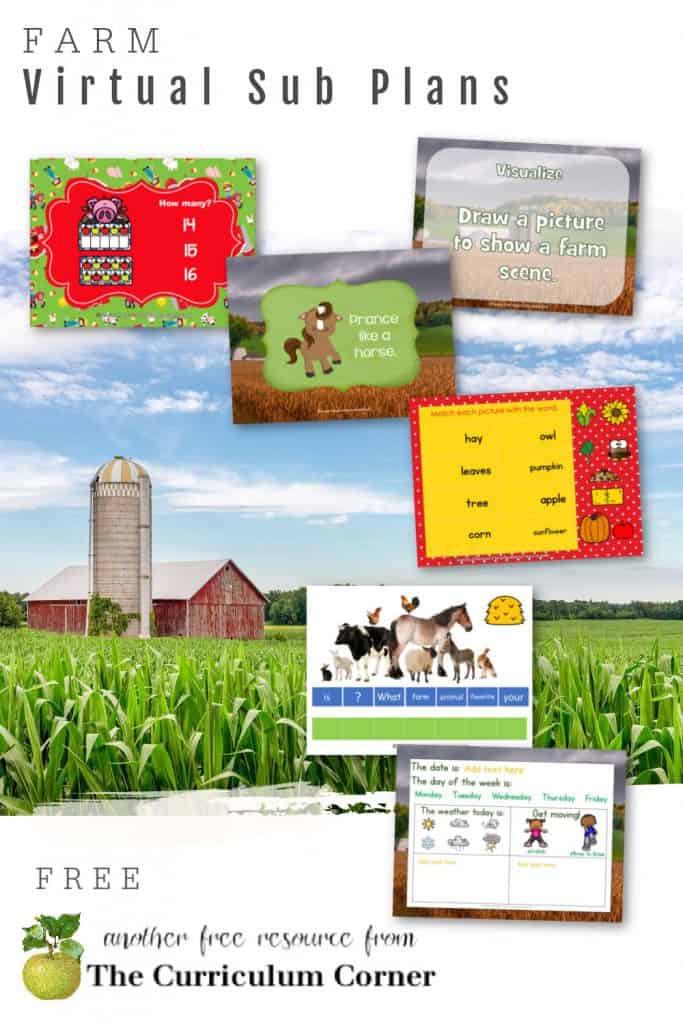 Getting Started With Your Farm Themed Virtual Sub Plans
This set begins with a word document that you can edit to fit your class.
This can be your introduction to the guest teacher. Also, it can serve as a place where you can share passwords and other log-in information. Add in your directions for taking attendance in your classroom.
The next file is a simple schedule. Modify this to fit your daily schedule for your sub.
Introduction (Word Document)
Schedule (PowerPoint Document)
The other files provided will be PowerPoint files. We are not able to unlock any of these documents beyond how we are presenting them.
We have created a range of resources so that you will be able to find activities that fit into your classroom.
Many of these activities are digital, you might find that some students still prefer writing with pencil and paper. You might want to offer this option!
How to Convert These Files to Google Slides
We have not converted these files to Google Slides. If you would like to use them in Google Slides, follow the steps:
Download the PowerPoint files you would like to use.
Upload the files to your Google Drive
Open each file and select to convert to Google Slides
Farm Virtual Sub Plans Resources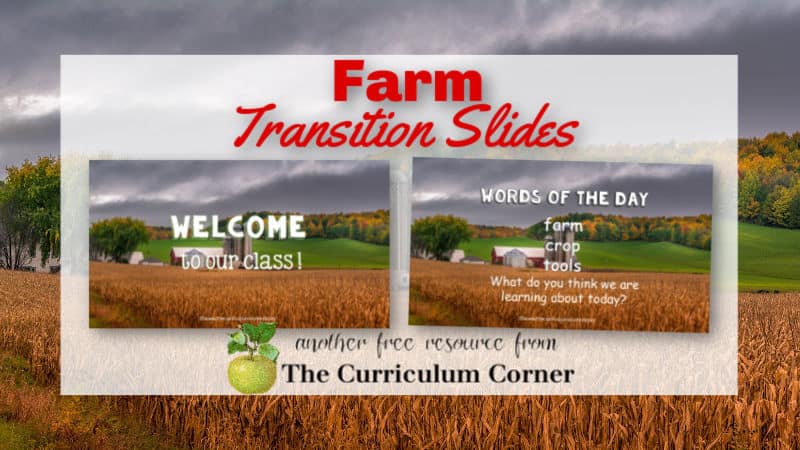 Farm Welcome & Transition Slides Use these as place markers for you fun on the farm day. Includes slides such as welcome to reading and welcome to math. You will also find a number of the day slide along with a words of the day slide. There are schedule and grouping slides along with a remind slide for students. These are editable.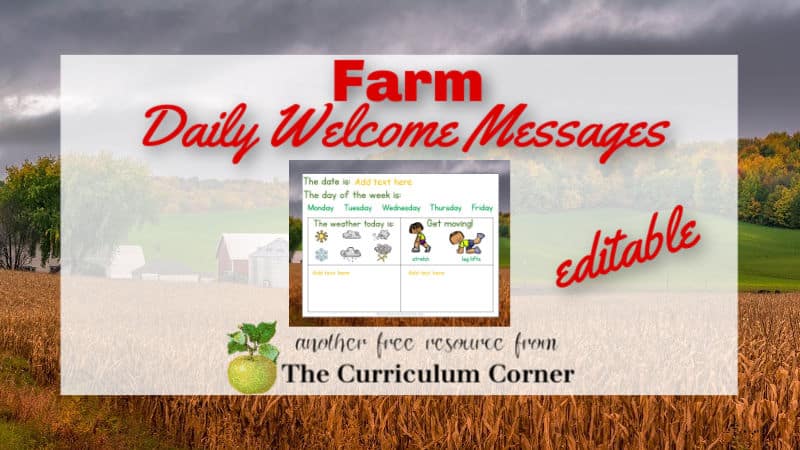 Daily Welcome Warm Up Slides These are designed to be used as a class warm-up. You can edit the five slides to include the skills of your choice on the bottom portion.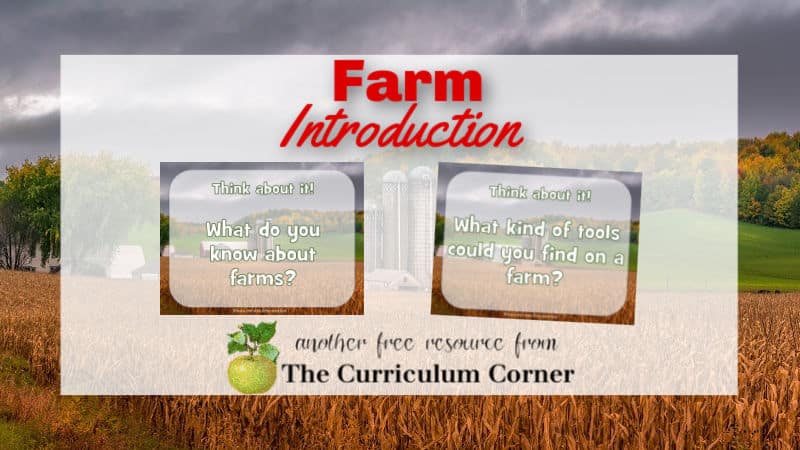 Farm Introduction This can be used to introduce your farm focus. You will find a set of question slides to activate prior knowledge. You can use multiple on one day or spread these slides out. Another idea is to use these as a daily journal prompt.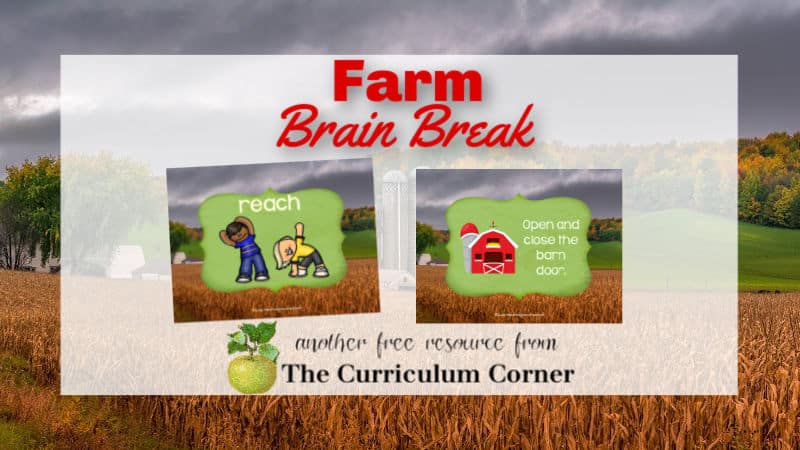 Brain Break These farm themed slides can be used as needed for a movement break. This is not an editable file and is provided only as a pdf.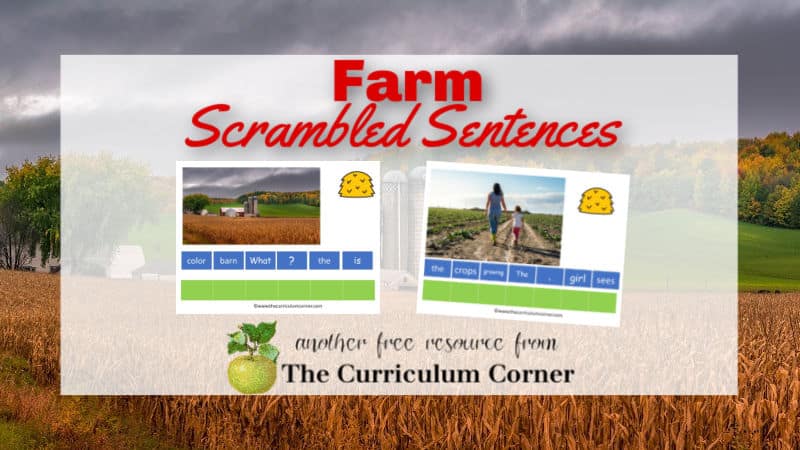 Scrambled Sentences This download has ten different sentences focusing on farms. Students will drag and drop the words to unscramble the sentences. These slides are self-checking. Students can move the hay pile at the top to reveal the answer.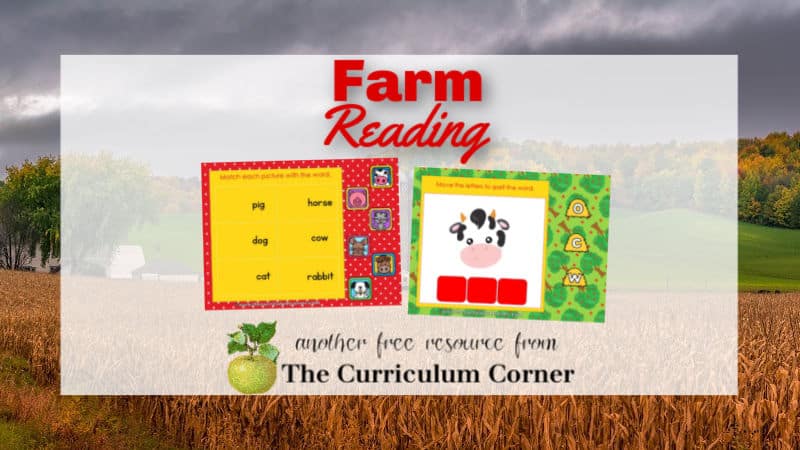 Reading Our farm reading collection includes a few different digital tasks. First, students will move the images to match the word. Next, children will move the letters to spell the farm words. Finally, children will create their own farm themed word wall.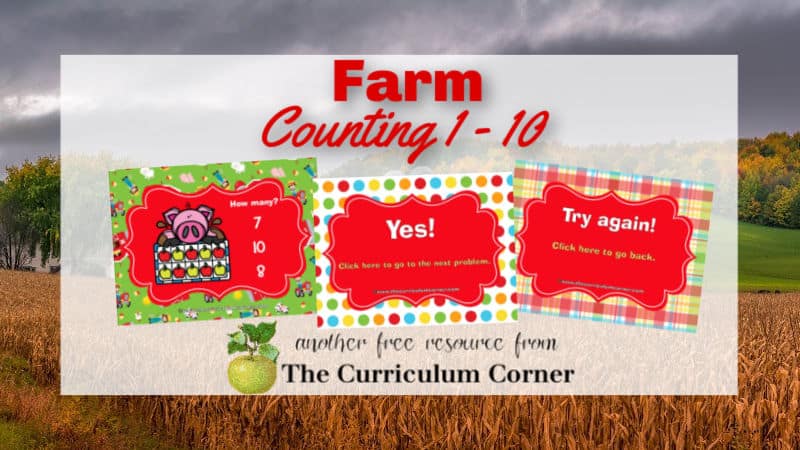 Counting 1 – 10 Students will count the apples in the ten frames and select the total number.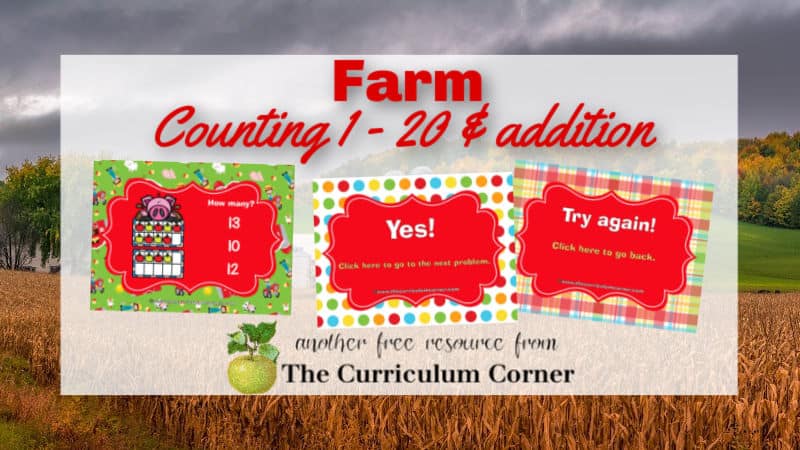 Counting to 20 Students will count the apples in the two ten frames. As an extension, you can have children record a matching addition fact.
You will want to download the following free fonts to help you with editing:
KG The Last Time, KG Summer Sunshine, KG Always a Good Time
Add to these plans by including links for a farm tour video. Maybe you have a favorite book with a farm theme that can be a read aloud.
Stock photos are purchased images that we are not able to email or share outside of the created documents.
Thank you to EduClips, Dancing Crayon and Creating 4 the Classroom for the clip art.
Looking for other virtual sub plans? you will find our other two sets here: