These African Savanna Virtual Sub Plans will help you create your own sub plans for your distance learning.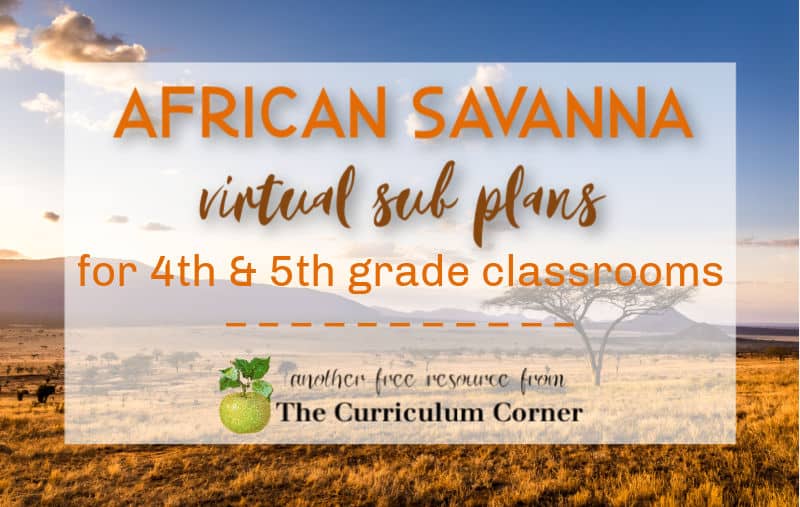 This is another free resource for teachers from The Curriculum Corner.
Use these African Savanna: Virtual Sub Plans to help you pull together just right distance learning sub plans for your students.
This is our second set of virtual sub plans. This collection is designed to fit into your fourth and fifth grade classrooms. Some third grade classrooms will also find pieces that will work for them.
In creating this set, our goal was to include a range of digital activities. Our focus was in creating resources that could span different grade levels. Not all of the activities will fit into all classrooms in this range.
We believe that using these resources, you will be able to plan out more than one day of virtual instruction.
Our first set of sub plans geared towards 2nd – 4th grade classrooms can be found here: Rainforest Virtual Sub Plans.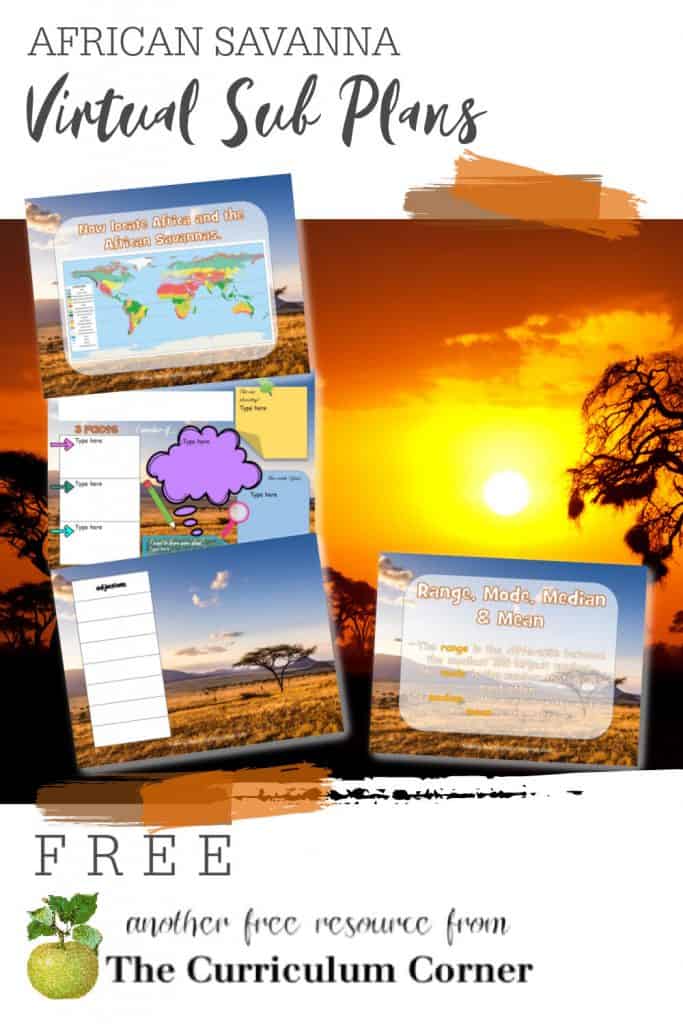 Getting Started With Your African Savanna Virtual Sub Plans
We began by creating a word document that you can edit to fit your class.
This can be your introduction to the guest teacher. Also, it can serve as a place where you can share passwords and other log-in information. Add in your directions for taking attendance in your classroom.
The next file is a simple schedule. Modify this to fit your daily schedule for your sub.
Introduction (Word Document)
Schedule (PowerPoint Document)
The other files provided will be PowerPoint files. We are not able to unlock any of these documents beyond how we are presenting them.
We have created a range of resources so that you will be able to find activities that fit into your classroom.
While many of these activities are digital, you might find that some students still prefer writing with pencil and paper. You might want to offer this option!
How to Convert These Files to Google Slides
We have not converted these files to Google Slides. If you would like to use them in Google Slides, follow the steps:
Download the PowerPoint files you would like to use.
Upload the files to your Google Drive
Open each file and select to convert to Google Slides
African Savanna Virtual Sub Plans Resources
African Savanna Welcome & Transition Slides Use these as place markers for your instructional day. Includes slides such as welcome to reading and welcome to math. You will also find a number of the day slide along with a words of the day slide. There are schedule and grouping slides along with a remind slide for students. These are editable.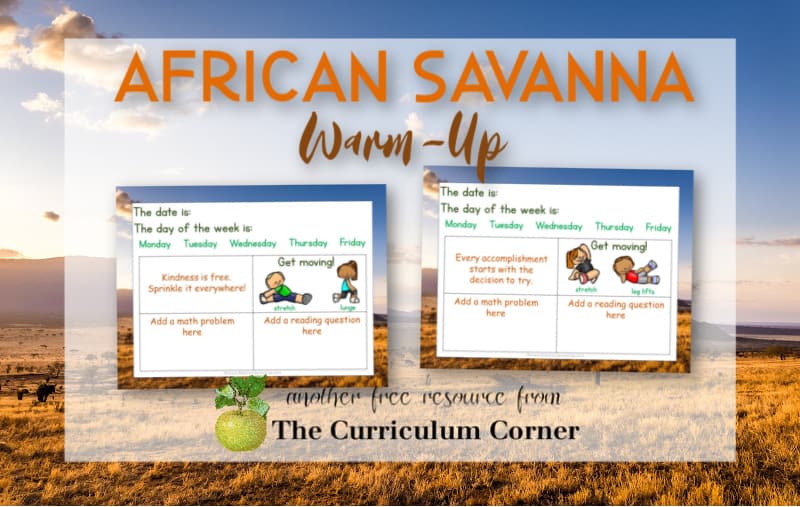 Daily Warm-Up Messages These are designed to be used as a class warm-up. You can edit the five slides to include the skills of your choice on the bottom portion. There is also an editable section where you can include a quote of the day or other review question you would like. The slides are currently filled with quotes but you will be able to edit them. You might even choose to add an interesting savanna fact in each day.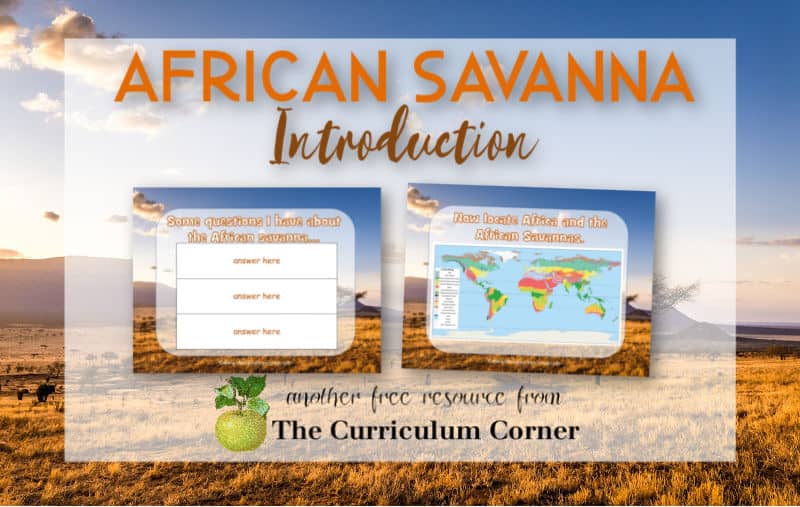 African Savanna Introduction This can be used to introduce your African savanna focus. You will find maps of the world and two slides to get students thinking about savannas. This file provides places for the students or teacher to type responses.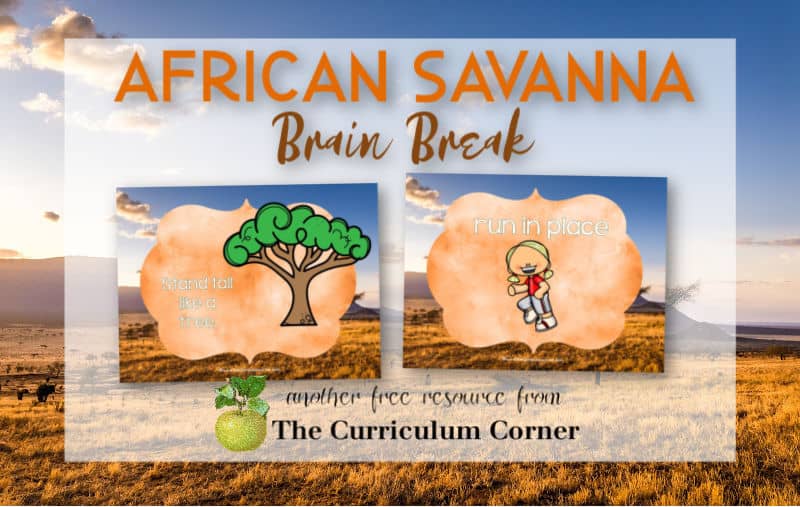 Brain Break You can use these slides for a movement break. This is not an editable file and is provided as a pdf. While these might look a little young for some intermediate classrooms, I have found that some teachers like to have them for a fun break.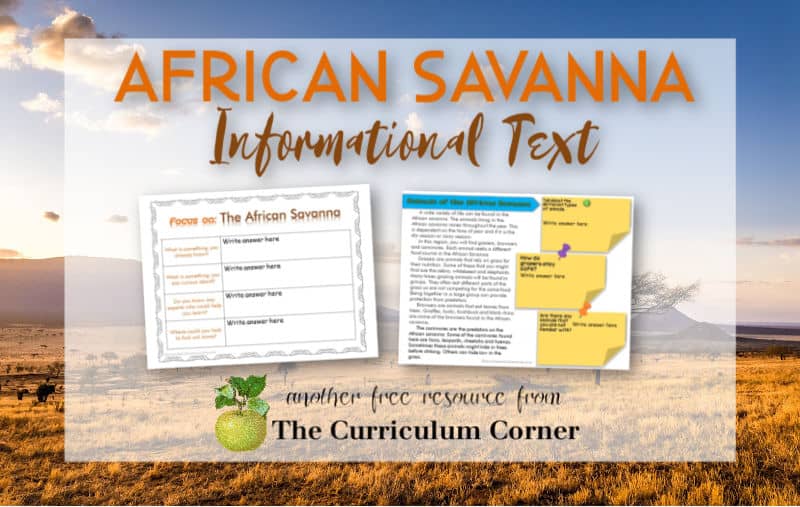 Informational Text This set contains three passages and spots for student responses. These passages might be a springboard for learning more about African savannas. As students read the passages, have them keep track of what they wonder.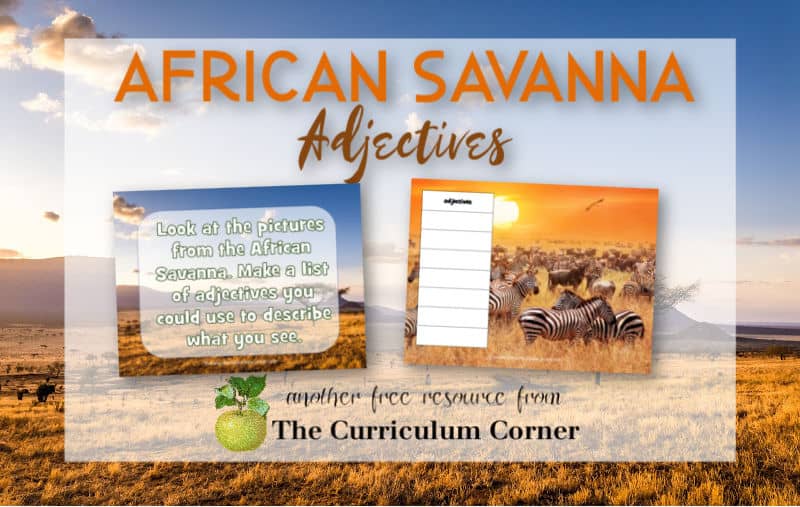 African Savanna Adjectives Students warm up by brainstorming adjectives. They will look at pictures from an African savanna and think of descriptive words to describe each photo. The activity ends with students writing a paragraph describing one of the photos.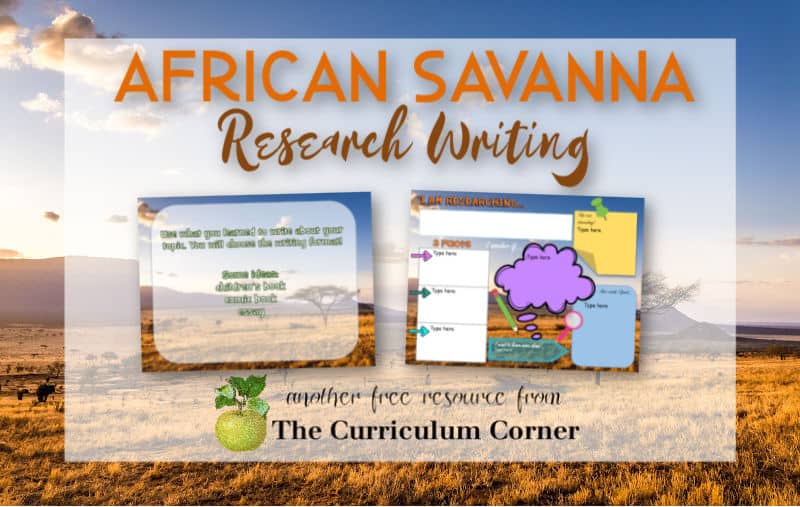 Research Writing Begin with a class discussion on what topics students would like to learn more about. Students will choose a topic and then can begin researching. After they finish their research, they will choose a writing format to share their facts. You will be able to edit the final two slides to fit your classroom requirements.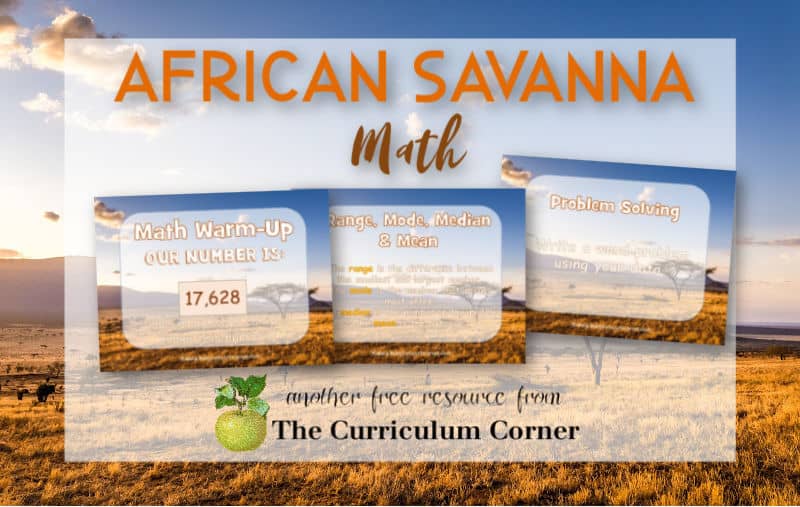 Math Practice This editable file will allow you to choose numbers that fit your students. The activity included involves having students select animals of the rain forest. They will then research their size and put the numbers in order from smallest to largest. Like some of the other activities, you can complete this as a guided or independent activity. Students will write inequalities along with finding the mode, mean, median and range of a group of numbers.
You will want to download the following free fonts to help you with editing:
KG The Last Time, KG Summer Sunshine, KG Always a Good Time
---
Add to these plans by including African savanna videos and animal sounds you find. You can find a large selection on YouTube.
Here is one virtual field trip we like: African savanna field trip. This video is a good introduction that helps children learn facts about the African savanna.
You can encourage to practice note-taking skills by recording new words and questions they might have as they watch and listen.
You will find additional information including vocabulary on National Geographic: African Savanna.
We buy our stock photos for use in school materials. We are not able to email or share outside of the created documents.
Thank you to EduClips, Dancing Crayon and Creating 4 the Classroom for the clip art.
As with all of our resources, The Curriculum Corner creates these for free classroom use. Our products may not be sold. You may print and copy for your personal classroom use. These are also great for home school families!
You may not modify and resell in any form. Please let us know if you have any questions.
You may not modify and resell in any form. Please let us know if you have any questions.