Create a camping theme in the classroom with the help of this free collection from The Curriculum Corner.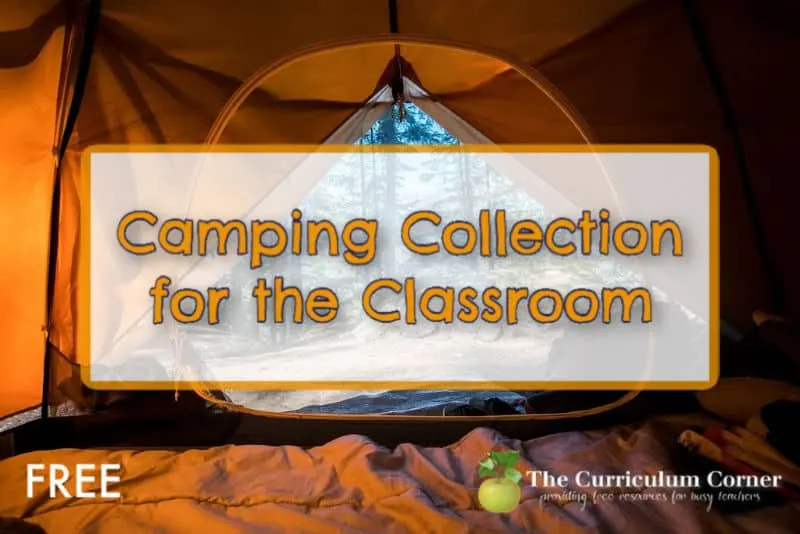 This is another free collection of resources from The Curriculum Corner.
We have put together this collection of camping theme in the classroom activities to make an exciting and engaging theme for your classroom.
Camping can be such a fun theme either for the entire year or just a week or two during the school year.
Within this post we are sharing all of our resources with a camping theme to help you craft your own twist on the theme.
Wrapping up your Year!
If you are hoping to end your year with a camping theme classroom celebration, we are sharing a few of our favorite ideas below.
The last week of school can be difficult. You still need to teach but it can be hard to gain and hold the attention of your students. We think a camping unit is a perfect way to keep your students engaged!
There are so many different ideas to make an end of the year camping unit fit the needs of your room!
Some teachers choose to go all out, bringing in sleeping bags and maybe even a tent or two. You can build a fake fire and have camping treats.
If that is more than you are able or want to do in your room, you can still have fun with a camping unit! Have students bring in flashlights, turn of the lights and have an afternoon read around in the dark.
Our camping collection includes a variety of resources so you can choose what will best fit your room.
Each resource we have created for this unit is provided as an individual download below. Click on the title to download each item you are interested in.
You can find these camping theme in the classroom resources here:
Camping Theme in the Classroom
Help build your camping theme in the classroom with this free collection of resources for teachers.
---
As with all of our resources, The Curriculum Corner creates these for free classroom use. Our products may not be sold. You may print and copy for your personal classroom use. These are also great for home school families!
You may not modify and resell in any form. Please let us know if you have any questions.