These free elementary classroom lesson plan templates are provided as a PowerPoint document so they are fully editable.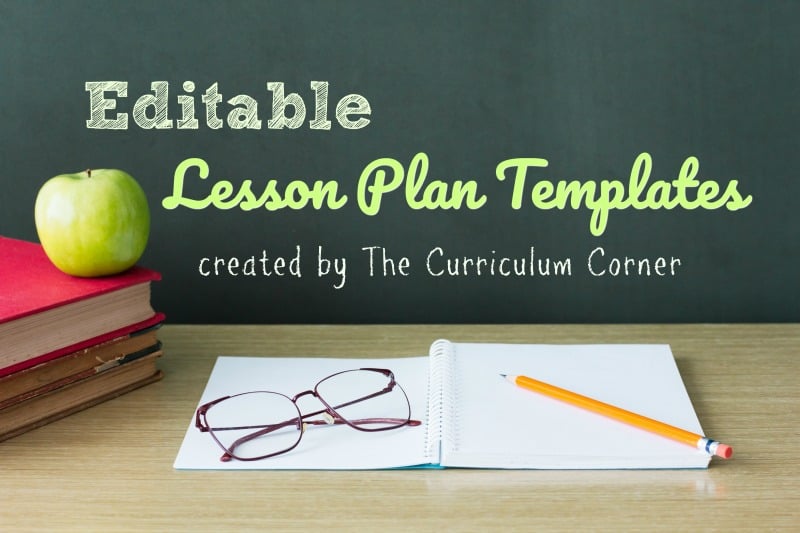 This is another free resource for busy teachers from The Curriculum Corner.
We get many requests for editable lesson plan templates for teachers. We hope this collection will help you create just right lesson planning pages for your teaching.
You will be able to adapt these planning pages to fit your classroom schedule.
These lesson plan templates have been updated from our original. They are now available as a single PowerPoint download.
You will find three different options in one PowerPoint.
Why You'll Love our Free Lesson Plan Templates
Each template provided is completely editable.
You will be able to change the times and wording to fit your classroom.
Begin by choosing the format you like and then use PowerPoint to edit. Delete the styles that don't fit your needs.
We have created this collection of lesson plan templates to help teachers try to find a lay out they are comfortable with. You might choose to use our documents as they are.
Or, you might choose to create your own set using some of our ideas.
Terms of Use
These are provided as a free classroom resource for teachers. We are happy to provide the PowerPoint file to save teachers time and money. Please do not modify and sell – as always, we want to keep our resources free for teachers!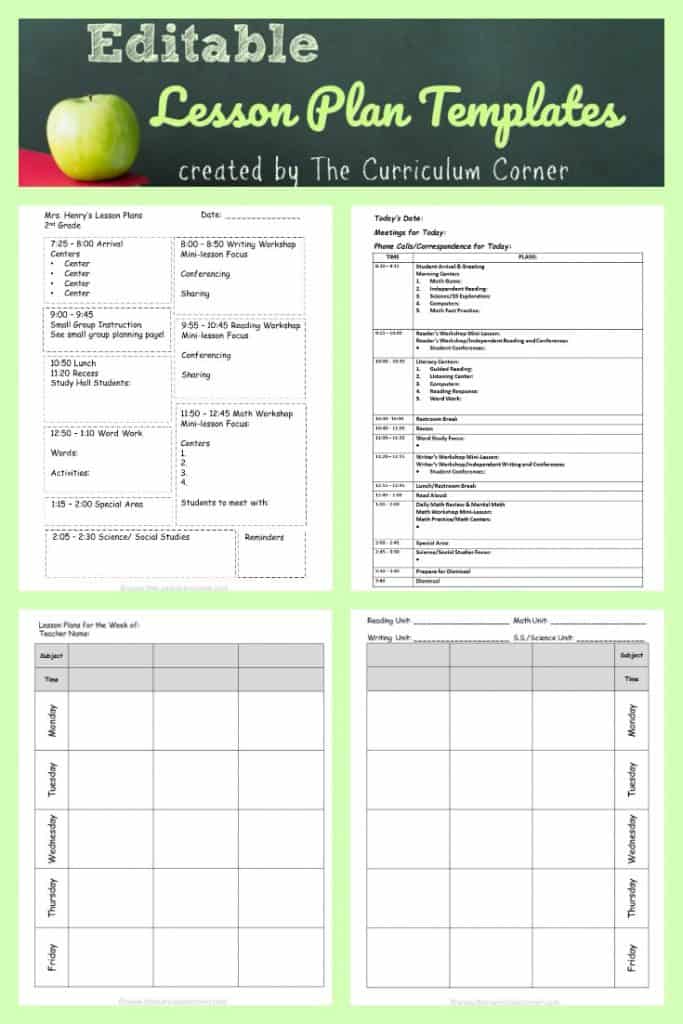 Please let us know if you have any questions!
You can download the PowerPoint containing the three teaching plan templates here:
Lesson Plan Pages
If you are in search of the old versions of the templates provided below, we have left the previous links below.
Lesson Plan Template Idea #1 – For those teachers who like to plan their days and see things sequentially.
Lesson Plan Template Idea #2 – For those teachers who like to plan their days in sections.
Lesson Plan Template Idea #3 – Week at a Glance – Take to team planning meetings to get a better vision for your entire week. Print both pages. Hole punch the right side of the first page and the left side of the second page to show the whole week's plans for your binder. Print four copies at once to plan your month!
Lesson Plan Template Idea #3 (Word Document) – Week at a Glance – This is the same template as the one listed above but presented as a Word document. Each box contains a text box so that you can type your plans or change the document to fit your needs.
You might also like our fully editable teacher binder collection that includes resources for planning, reading, writing and math: