These free math workshop tools for students are brought to you by The Curriculum Corner.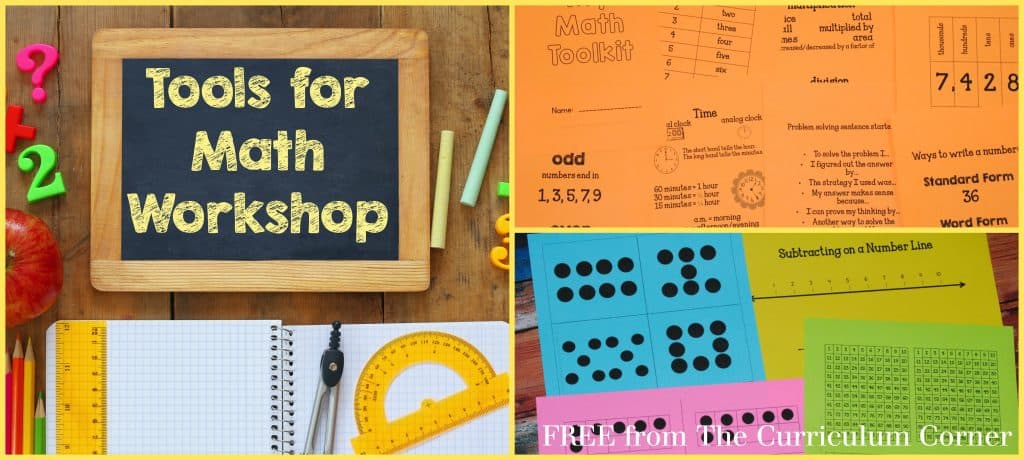 We have created this toolkit to help you have the resources you need for your math workshop.
We know that it can be difficult to provide students with all of the tools you find helpful. To help you supply your students with what they need, we are providing you with this free set of printable math tools.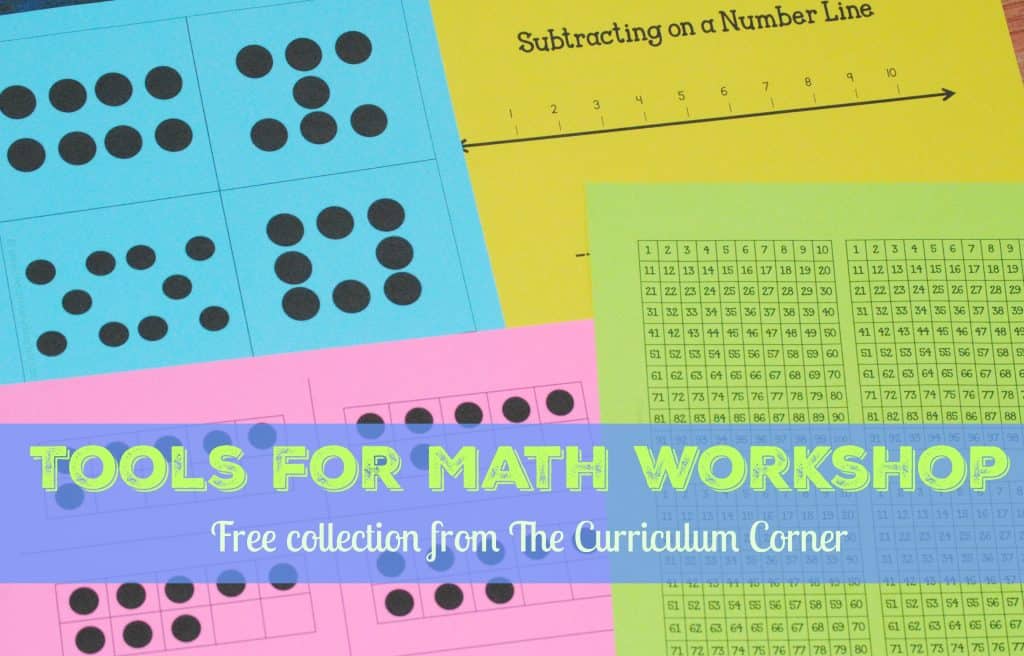 Setting up Your Math Toolkits
We envision printing sets of the tools you will be using throughout the year on colored card stock and laminating for durability. (affiliate link below)
Don't forget to help your resources last longer! Laminate your tools for durability.
You can create a complete set for each student and have students store their set in a baggie or other case in their desks.
Or, if you are worried about missing pieces, you can create a class set of the tools as you need them and store by type.
Additionally, we have included a student toolkit booklet so that you are able to provide students with an easy to use reference book for math class.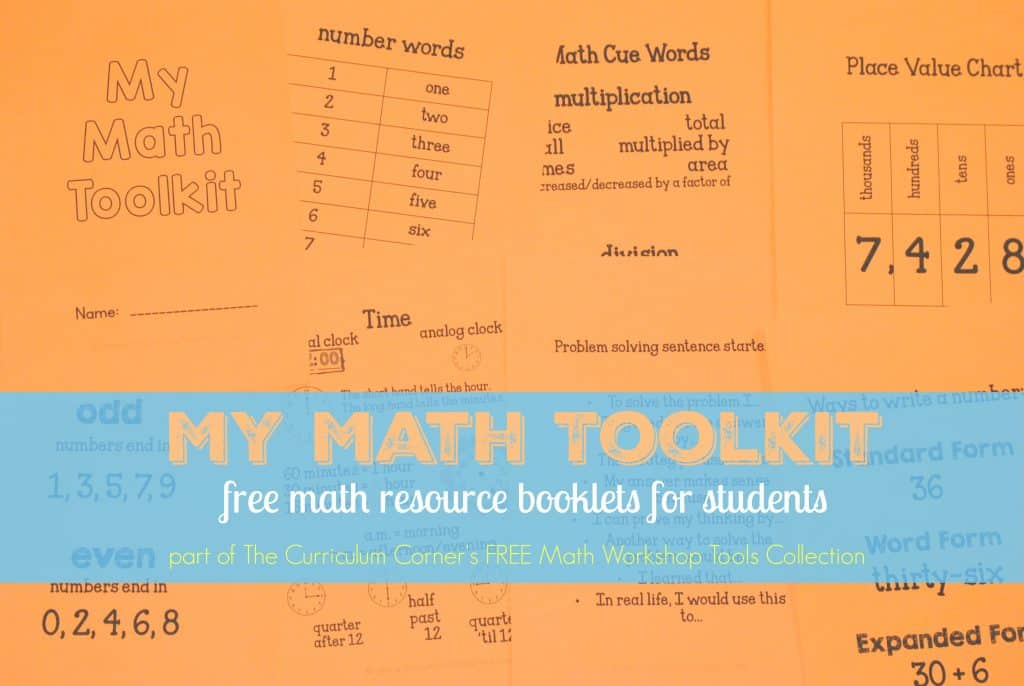 You can download the complete collection by clicking on the bold, blue words at the bottom of this post.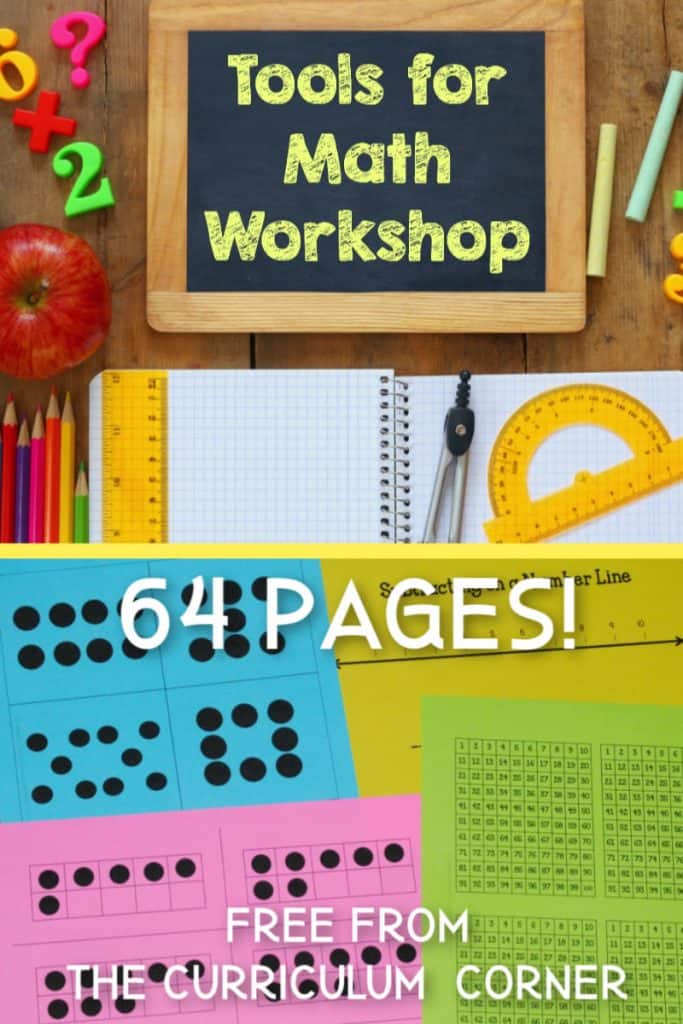 What tools will you find in our printable math tools kit?
dot cards
ten frames
large number cards 0-10
number cards 0-20, word cards
number cards 0-120 with math symbol cards
blanks 100s chart
100s chart
small 100s charts
blank 120 chart
120 chart
small 120 charts
blank number paths 1-10
number paths 1-10
number lines 1-10
number lines 1-20
tens & ones work mat
hundreds, tens & ones work mat
blank ten frame
blank five frame
number bond work mat
subtracting on a number line work mat 1-10
subtracting on a number line work mat 1-100
fractions work mat
blank clocks
Make Personal Toolkit Booklets!
This contains many 1/2 sheet pages that you can pick and choose from to create personal toolkits that are just right for your students.
The pages are created so they can be cut apart and stapled at the top.
(We have included three versions of a place value chart so you can use the one that fits the standards in your grade level.)
You can download the complete collection of math workshop tools here:
We would love to see pictures showing how you have used these resources in your classroom!
Share creative ideas below to help other teachers get the most of these tools.
Other Free Resources from The Curriculum Corner
Add this free booklet to your tool kits! Math Academic Vocabulary Booklet
Manage your math workshop with this editable binder: Editable Math Management Binder
You might also like our number bond cards that can be found here: Number Bond Sort
Our math cards for 1 – 100 in many different themes can be found here: Printable Math Cards 1-100