This free set of math vocabulary resources is designed for primary classrooms and includes 142 words with definitions, in kid-friendly terms!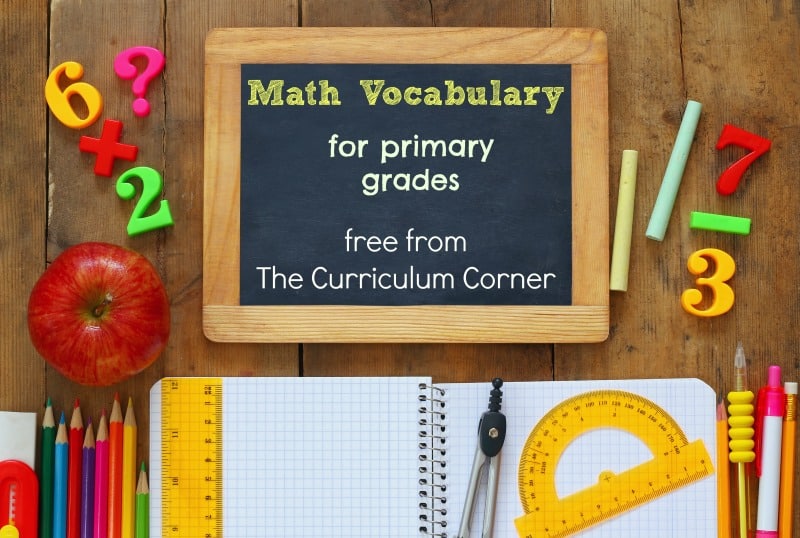 This is another free resource for teachers from The Curriculum Corner.
These math vocabulary resources will help you prepare your math workshop for the school year.
We have pulled almost 150 math vocabulary words and concepts from the primary grades and presented them here with kid-friendly definitions.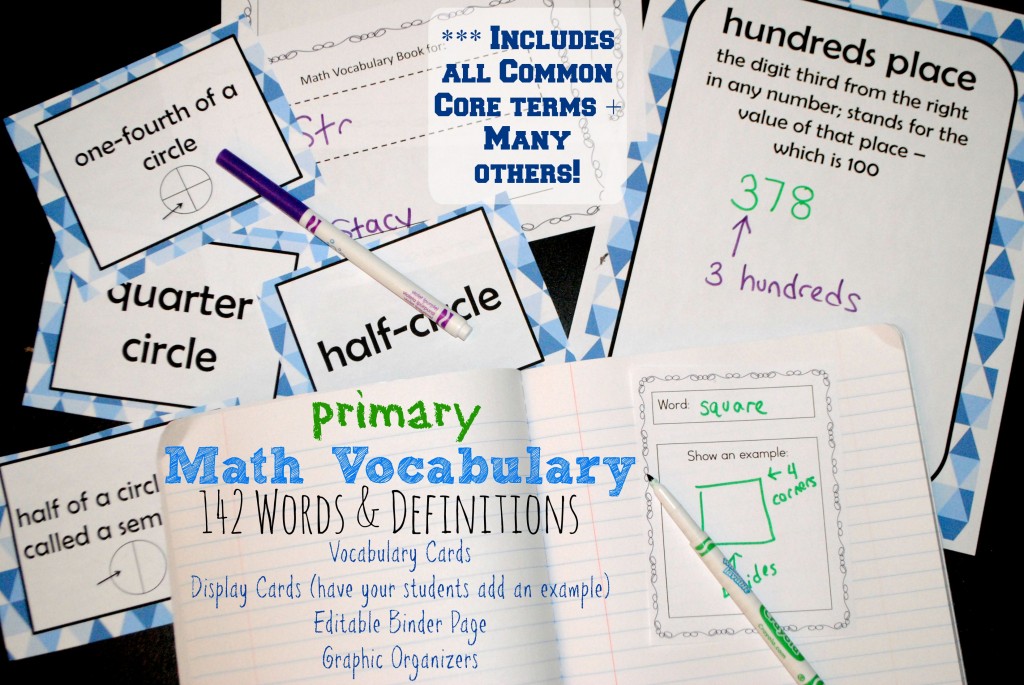 All of the resources provided are completely free for classroom use.
These resources may not be sold or modified and sold.
These Math Vocabulary Resources Include the Following:
Vocabulary Cards – These are small vocab cards with matching definition cards. Print, cut and laminate all of the cards. You can then pull those that you need for each math focus to use at a center for matching or other games. Easily differentiate by taking out or adding cards with concepts at different levels.
Editable Binder/Notebook Page – We have created these in PowerPoint and the pages are editable so that you can quickly take out any words or concepts you don't want to be on the students' pages. Or, you can add to those that we have to suit your classroom or district needs.
Display Cards – These display cards have the word or concept and definition at the top. They also have space at the bottom for you or your students to write an example. One idea is to have students come up with examples for the words or concepts and showing the class by writing on the card and explaining their thinking. Then the teacher can add these display cards to a bulletin board or display as examples for students to use as needed.
You can download our math vocabulary resources below.
Each resource is provided as its own download.
Operations & Algebraic Thinking Vocabulary Cards Editable Binder Page Display Cards
Number & Operations in Base Ten Vocabulary Cards Editable Binder Page Display Cards
Number & Operations – Fractions Vocabulary Cards Editable Binder Page Display Cards
Measurement & Data Vocabulary Cards Editable Binder Page Display Cards
Geometry Vocabulary Cards Editable Binder Page Display Cards
For those teachers who have additional vocabulary they would like to teach, you might need this editable blank Vocabulary Card Template and Display Card Template. (The font we used is Berlin Sans FB.)

We have also created a vocabulary booklet for the primary grades. You will find this booklet here: Academic Math Vocabulary
Want your students to have more exposure or practice with these words and concepts? We have also created a small collection of Math Vocabulary Graphic Organizers you can use when teaching math vocabulary.
You might also like our math management binder!