This collection of 7th Grade I Cans and 8th Grade I Cans is designed to provide teachers with an easier way of helping students understand the Common Core.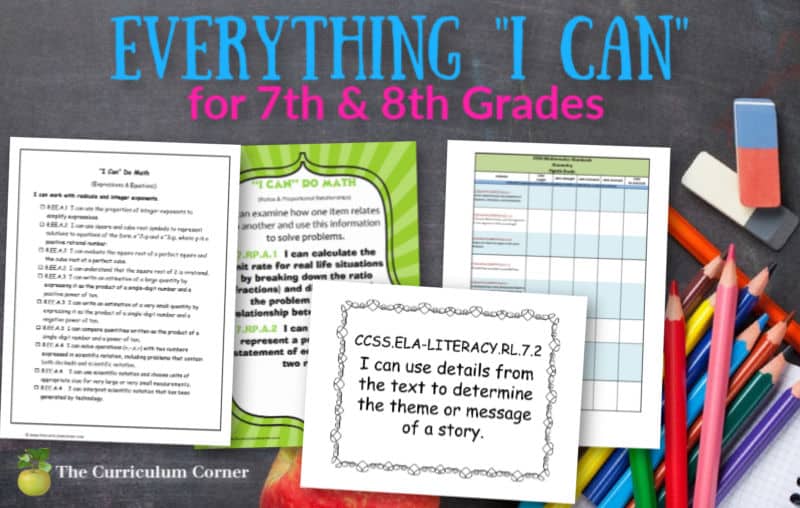 This is another free I Can Standards resource from The Curriculum Corner.
These 7th and 8th Grade "I Can" resources were created for our middle school followers.
Like our other "I Can" products, these are based on the CCSS.
Since Jill & Cathy have experience teaching only elementary classrooms, we received help from a colleague in writing these statements. We can't thank Teresa enough for he time and effort she put into creating these. We hope you appreciate them too!
If you are interested in purchasing a commercial use license, please message us for details.
Like our collections for other grades, we are providing you with multiple formats. You might choose to use one version that works best for you or multiple versions.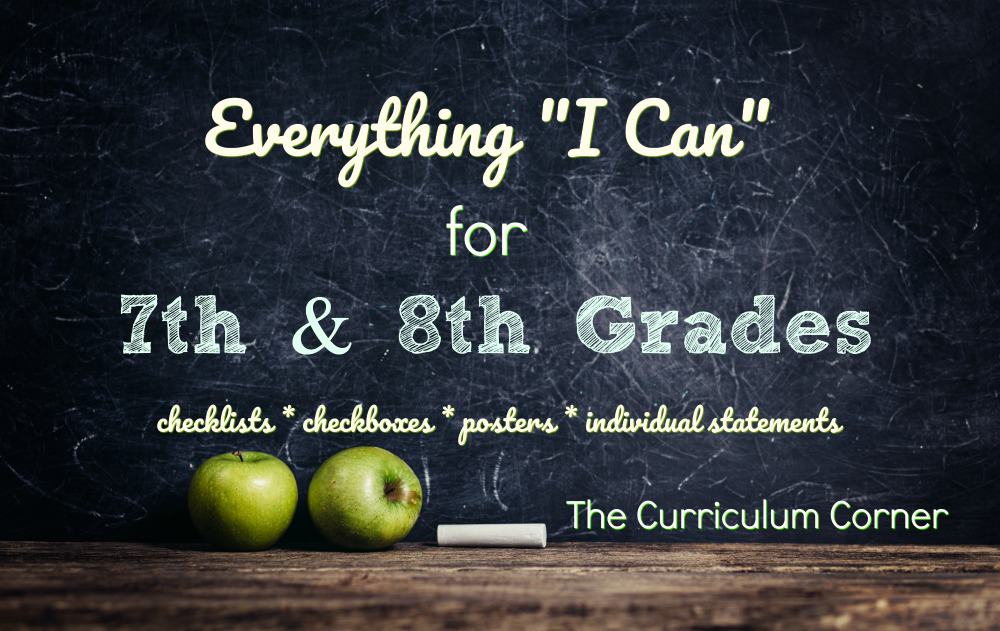 As these files are so large, each has been provided in its own download. Click on the file link to download the items you need.
Common Core Standards Checklists
We have created two versions of these teacher checklists.
One is a PDF to print, keep in your plan book and write on each day to track when you address various standards throughout the school year.
The second resource is a partially editable Excel spreadsheet that can be downloaded, typed in and saved on your computer.
*NOTE – The titles and standards boxes in the Excel document have been locked. The only editable portions are the boxes to track the standards taught.
Download these checklists here:
CCSS Standards for Mathematical Practice
7th Grade CCSS Checklist for ELA Excel PDF
7th Grade CCSS Checklist for Math Excel PDF
8th Grade CCSS Checklist for ELA Excel PDF
8th Grade CCSS Checklist for Math Excel PDF
CCSS "I Can" Statements Checklists
This is the same format as the document above, but it contains our "I Can" statements instead of the actual CCSS standards.
Download these "I Can" checklists here
7th Grade "I Can" Statements Checklist for ELA Excel PDF
7th Grade "I Can" Statements Checklist for Math Excel PDF
8th Grade "I Can" Statements Checklist for ELA Excel PDF
8th Grade "I Can" Statements Checklist for Math Excel PDF
"I Can" Checkboxes
These are ideal for including in student binders so students have something visual to help them track their own learning. You can check off progress with students and easily communicate with parents.
Download these checkboxes here:
Individual "I Can" Statement Posters
These were designed for teachers to post daily classroom objectives one at a time.
We have kept the design simple so that you can print them on colored paper or back them with construction paper.
Another idea to help with the organization of all of these posters is to put them on a binder ring so that they can easily be flipped through and displayed each day.
Each individual statement is on an 8 1/2 x 11 poster and can be enlarged on a Smartboard or just hung in the classroom.
One organizational idea is to print them all on card stock, hole punch the corners and place them in a ring clip so that they can be easily flipped through daily and then displayed.
Download these posters here:
"I Can" Standards Posters
This resource includes all of the standards but they are spread out over a number of pages. Standards flow one to the next. Some teachers have chosen to make them into posters and highlight the day's learning target with a clothespin or large arrow cut-out.
Download these posters here:
If you are looking for resources to meet standards in other grades, you can start here:
As with all of our resources, The Curriculum Corner creates these for free classroom use. Our products may not be sold. You may print and copy for your personal classroom use. These are also great for home school families!
You may not modify and resell in any form. Please let us know if you have any questions.