Download this set to provide practice with idioms to your students with a matching card set and printable worksheets.
You help your students practice with idioms using this printable set.
These ideas will fit into your fourth or fifth grade classroom
This is another free resource for teachers and homeschool families from The Curriculum Corner.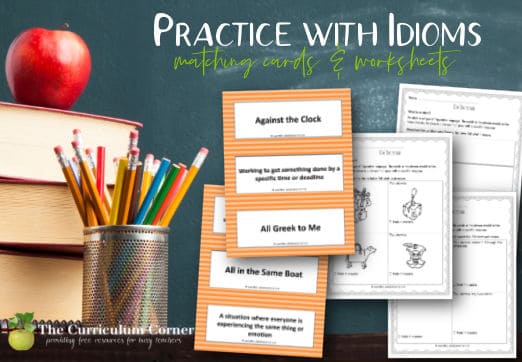 What are idioms?
Idioms are a type of figurative language.
Other types of figurative language include metaphors, similes, personification, hyperbole and puns.
An idiom is an expression. The words used in the expression do not relate to the literal meaning of the phrase.
Here are some examples of idioms and their meanings:
| | |
| --- | --- |
| IDIOM | MEANING |
| back to square one | starting over |
| spill the beans | tell a secret |
| adding insult to injury | making a bad situation worse |
| don't judge a book by its cover | don't judge something by its first appearance |
| feeling under the weather | not feeling well |
| letting someone off the hook | not holding someone responsible for something |
| piece of cake | something that was easy to do |
| cutting corners | not doing something completely to save time or money |
| letting the cat out of the bag | sharing a secret |
| like riding a bike | something you don't forget how to do |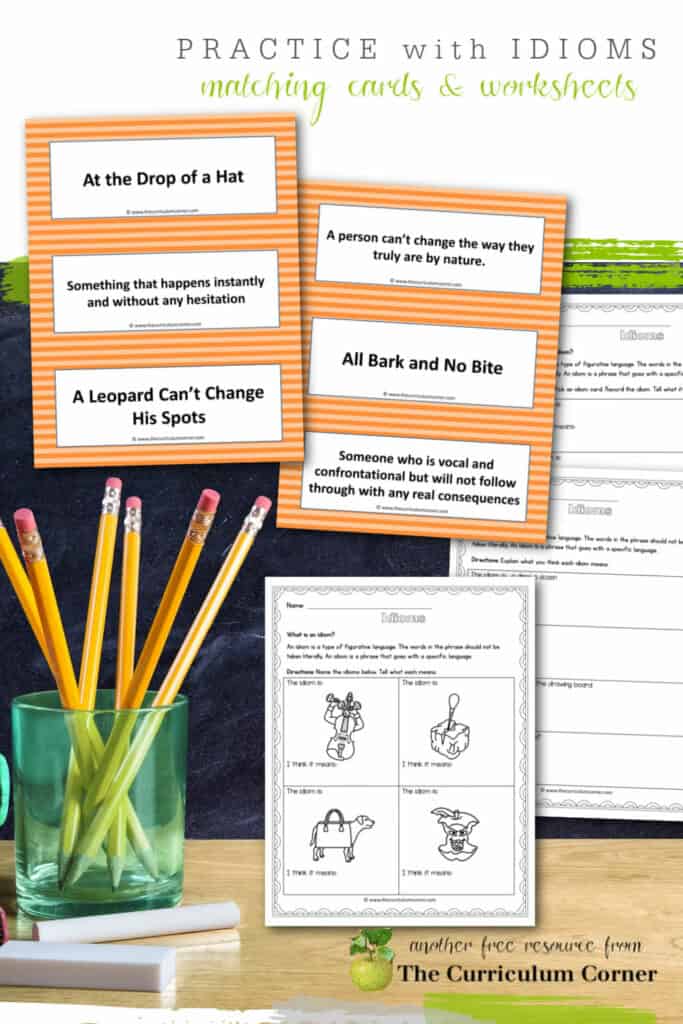 What you will find in this practice with idioms set:
This set contains 22 idioms with matching cards explaining their meanings. Students can practice matching these cards as they learn about common idioms.
To add a little movement to your practice, give each student a card. Then, have them find their partner.
There are also practice worksheets to accompany your learning.
For one, students will find a picture that they will write the idiom for. Next, they identify the meaning.
One page has students draw their own pictures.
The final pages will have students record and explain idioms from the cards provided.
You can download this free resource here:
Looking for other language resources to add to your classroom? Try these other freebies we have created:
As with all of our resources, The Curriculum Corner creates these for free classroom use. Our products may not be sold. You may print and copy for your personal classroom use. These are also great for home school families!
You may not modify and resell in any form. Please let us know if you have any questions.
You may not modify and resell in any form. Please let us know if you have any questions.