Use this editable writing management binder to plan and organize your writing workshop.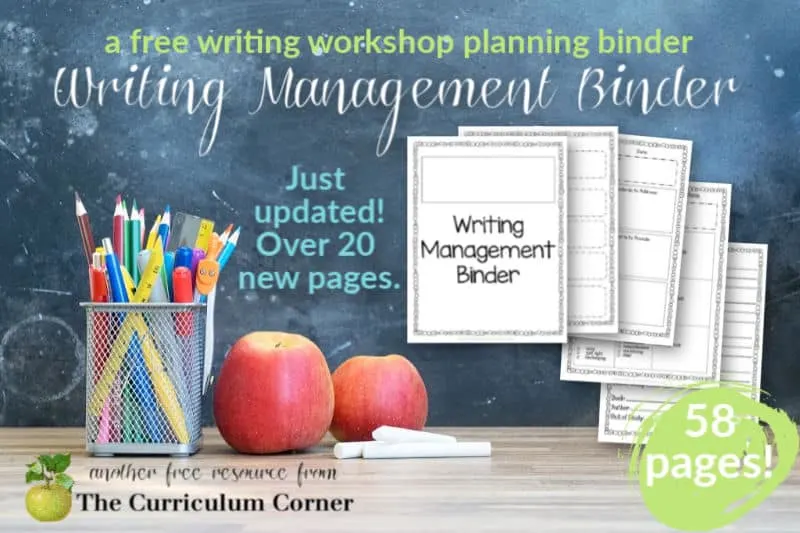 This is another free resource for teachers from The Curriculum Corner.
Add this editable writing binder to your teacher planning collection!
You will be completely prepared for your writing workshop with this newly updated, free & editable writing workshop management binder.
Along with a range of planning pages, you will also have many writing conference forms for the teacher.
This is an updated version of our original writing management binder.
This binder is available in a completely editable document so you can adapt it to fit your classroom needs.
Why should you use our writing binder?
This Writing Workshop Management Binder will provide you with an organized way to keep track of all of your writing materials.
You'll be able to keep your plans, conference notes, progress monitoring and data all in one spot.
You'll be prepared for the day along with being ready for important discussions about your students' writing growth.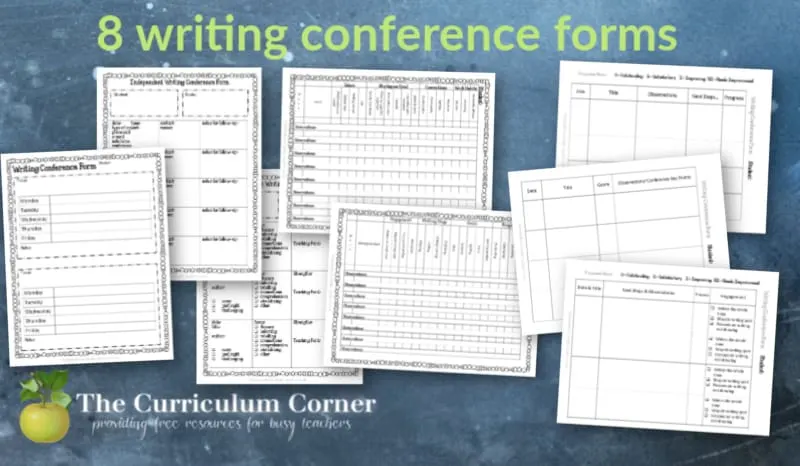 Also, pull out this binder at conference time to make sure you are ready for parents' questions about their student's growth!
We hope this binder meets all of your organizational needs. If you have new ideas, please share your requests in the comments below.
You can download the complete, editable binder by clicking on the bold, green link at the bottom of this page.
Here's a quick outline of some of the resources we have included.
Goal Setting Pages These are designed for teachers – think about your goals as a writing teaching and the goals for your writing workshop.
Plans for Growth Tracking Keep a record of assessments you will be giving throughout the year here.
Units of Study at a Glance Make a plan for your year!
Unit of Study Planner This page is designed as an outline for your unit of study. Contains two pages – the back is a calendar grid where you can make an outline of your daily schedule for the unit.
Unit Outline Similar to the above for planning out your unit.
Writing Reminders Have important notes you need to keep track of? Add them here so you don't miss a scheduled writing event such as an authors' night.
Student Groupings If you will be using your conferencing time to work with small groups of students, plan and document those groupings here.
Writing Conference Forms You will find pages for planning the days to conference with each student along with forms for recording notes about individual conferences. We have included a large selection of writing conference forms so that you can find a format that works for you.
Writing Intervention Tracking Form
Mentor Texts Throughout the year, keep track of books you discover that will be great as mentor texts for specific units.
Other Organization Forms! We've included a few extras throughout this collection.
You can download this free writing workshop management binder here:
Binder Download
You can grab the editable, PowerPoint version here: Writing Management Binder

You might also like:
Writing Conference Guide This was created to assist teachers who are new to conferencing. Someday, what to say during a conference will come naturally. When you are starting out, this can be more difficult as you have so many things to think about managing at once. This can also be a good guide to share with student teachers who are learning how to conference.
"I Can" Checkboxes Print off our "I Can" Common Core Student Checkboxes. Have each student keep a copy in his or her writing binder. Devote conference time to talking with their progress towards the standards. Set goals with students to help them reach the standards.
_______________________________________________________
Take a look at our other free binder resources:
---
As with all of our resources, The Curriculum Corner creates these for free classroom use. Our products may not be sold. You may print and copy for your personal classroom use. These are also great for home school families!
You may not modify and resell in any form. Please let us know if you have any questions.