This collection of 5th Grade I Cans is designed to provide teachers with an easier way of helping students understand the Common Core.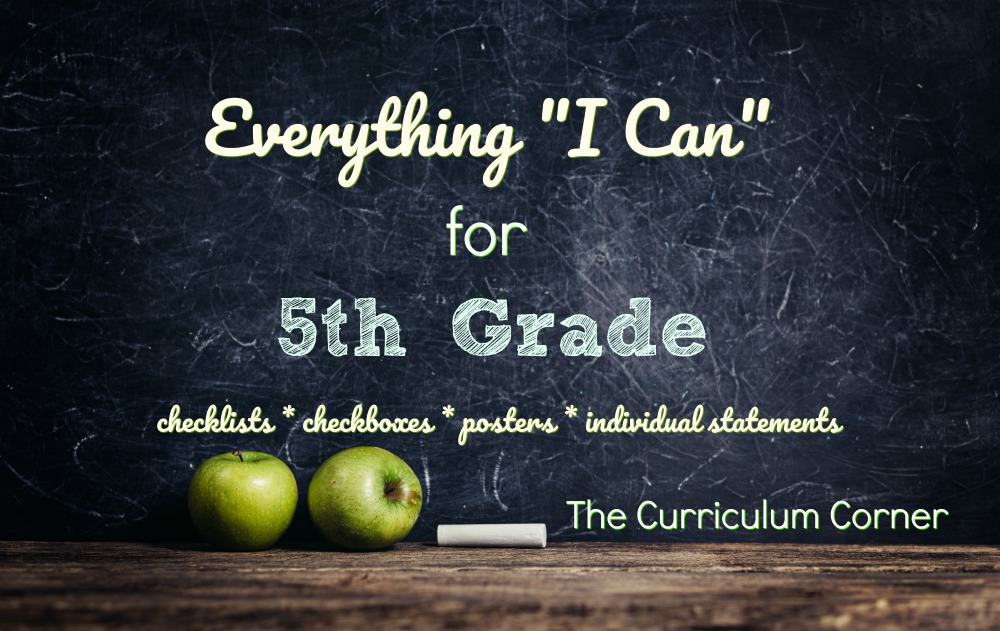 We have gathered all of our Common Core resources for 5th grade.  We hope this makes it easier to access all of our 5th grade resources.

Reproduction of these posters or statements with the intent to sell is prohibited.  These were created to help busy teachers and are meant to be free.  Thank you for understanding!
If you are interested in purchasing a commercial use license, please message us for details.
As these files are so large, each has been provided in its own download. Click on the file link to download the items you need.
One is a PDF to print, keep in your plan book and write on each day to track when you address various standards throughout the school year.
The second resource is a partially editable Excel spreadsheet that can be downloaded, typed in and saved on your computer.
*NOTE – The titles and standards boxes in the Excel document have been locked.  The only editable portions are the boxes to track the standards taught.
Common Core Checklists ("I Can" & CCSS versions – as an Excel spreadsheet & as a PDF)
"I Can Checkboxes"  – These are ideal for including in student binders.  You can check off progress with students and easily communicate with parents.  We have also provided these in Spanish.
Kid Clip Art  (these have the same format as our original "I Can" posters, just with the updated standards)
"I Can" 5th Grade Spanish with Doodle Borders
"I Can" 5th Grade Spanish no Borders
Individual "I Can" Statements  – These were designed for teachers to post daily classroom objectives.  There are three statements per page. Print and laminate so that you have each of the standards readily available.
Gray Chevron     Green Chevron     Colorful Polka Dots
"I Can" Standards Posters – This set is made with a larger font than the check boxes.  Standards flow one to the next.  It includes all of the same standards but they are spread out over a larger number of pages.  If you are concerned about printer ink, this is not the set for you.
Gray Chevron    Green Chevron     Colorful Polka Dots
Individual "I Can" Statement Posters (One Per Page) – Some teachers have requested  8 1/2 x 11  sized posters of our "I Can" statements.  We have kept these simple and created them in black and white so that you can copy them onto whatever color of paper you wish, back them with construction paper or use your school's poster maker to enlarge them.
ELA Posters (Includes all Reading, Writing, Language, and Speaking & Listening – 112 pages total)
Math Posters (Includes Operations & Algebraic Thinking, Number & Operations in Base Ten, Number & Operations – Fractions, Measurement & Data and Geometry  – 61 pages total)
If you are looking for resources to meet standards in other grades, you can start here: Everything "I Can' for K – 8