This complete, free unit of study will help you successfully launch your writing workshop.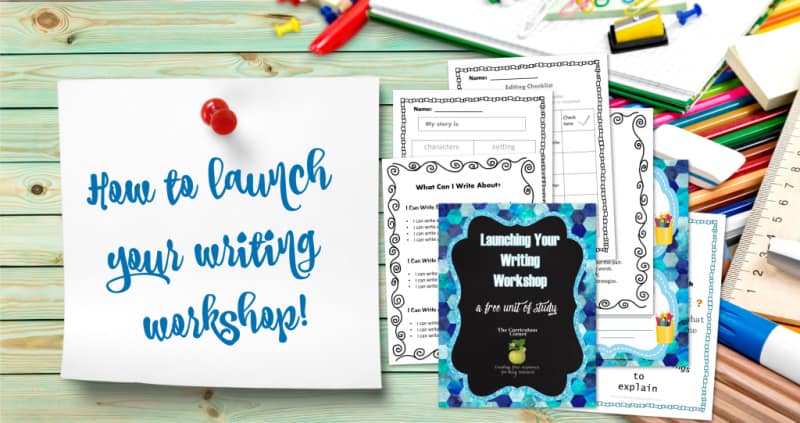 This launching writing workshop unit is another collection from The Curriculum Corner.
This launching writing workshop unit includes mini-lessons, anchor charts, graphic organizers & more.
A strong launching writing workshop unit is the key to a successful writer's workshop.
Use the lessons we've laid out below to help guide you through setting up your workshop.
Because this unit is designed to build the foundation of your writing workshop, not all of the lessons will address writing standards.
These first weeks of writing workshop are key to helping your workshop run smoothly the entire school year.
Some of our work is based on the work done by Katie Wood Ray in About the Authors. The writer's workshop you create by following our lessons will lead to a workshop where students are writing everyday. Children instantly become writers and almost always go through the writing process by working in blank books and papers.
Using Blank Books for Writing
When working with students in the primary grades, we have students use blank books for writing. Some third grade students will be ready for lined papers.
We like to create a writing center that offers students choices. You can find the blank books we provide below:
What is Writer's Workshop?
The format for writing workshop is much the same as reader's workshop.Below is a short description of what workshop looks like in many classrooms, keeping in mind that time frames can vary a bit and that some days things may look a bit different depending on the focus.
The Writing Mini-Lesson
A true writing workshop begins with a 5 to 15 minute mini-lesson that focuses on a specific concept or skill.
The focus of the lesson should be based on standards (most of the time). Many times the teacher will reference a piece of mentor text of some kind to illustrate a specific skill or concept.
Keep in mind that you don't have to read an entire book for this. You may only read a portion or have a discussion about a page or two. Many times these mentor texts will be books your students have read independently or that you have read aloud previously.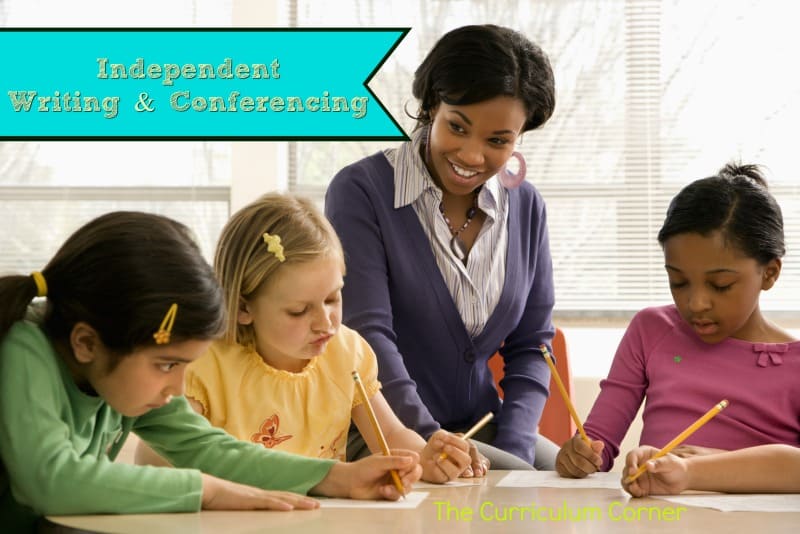 Independent Writing and Teacher Conferencing
Following the mini-lesson, students move on to their work as writers.
During this time students will be in all different stages of the writing process. They should have easy access to papers and supplies for writing and illustrating.
During this time you will conference with individual students or small groups. You might check in on their current piece of writing (possibly revising or editing). Other options include reinforcing a skill you have taught or informally assessing. This will help you plan future mini-lessons.
Some of writing conference resources include:
(the binder includes an assortment of conferencing forms)
Lesson Wrap-Up & Sharing
At the conclusion of independent writing, the class returns to a meeting spot to review the lesson. You will also discuss what students did to practice a new skill on their own. Many times you will choose a few students that you conference with who have illustrated the mini-lesson skill in some way.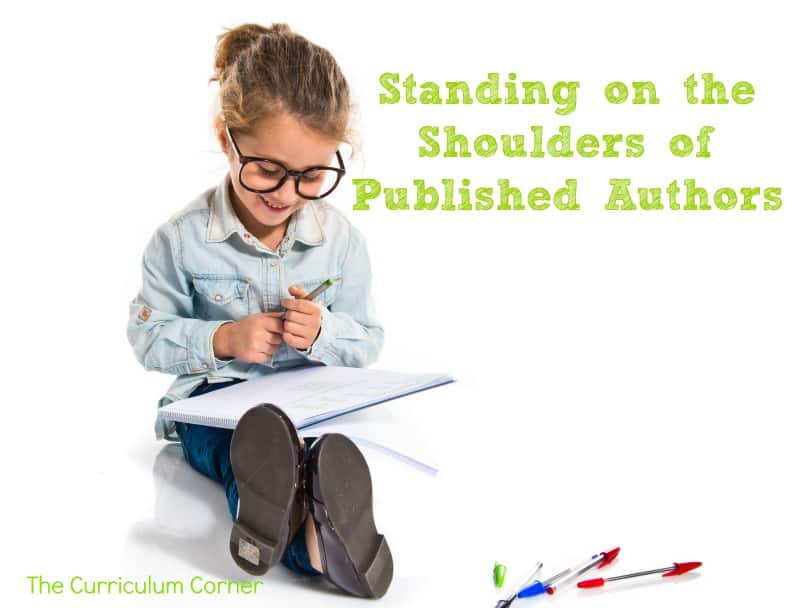 Standing on the Shoulders of Published Authors
We heard this expression in some of our professional development and loved it. Another important piece of writer's workshop is using books by published authors to teach children what real authors do. These books, that are used as tools for teaching writing, are called mentor texts.
Once you begin teaching writing using mentor texts, you will always be thinking about how a children's book might help you teach a writing skill in the future. You might want to keep track of the mentor texts you find by using the forms we've created.
We like to keep this page in our planning binder. When we find a mentor text, we jot down the title, author and writing skill.
Launching Writing Workshop: Passport to Becoming a Great Writer
We have chosen to use a traveling theme for this launching unit. We want students to begin thinking of writing as a journey they will embark upon. They will make many "stops" along the way as they learn what writers do.
To get started you might want to think about creating an area in your room dedicated to writing. You can display all of the resources, supplies, posters and anchor charts that students will need during writer's workshop.
You want everything they will need to write independently to be easily accessible. This will allow you to be able to focus on conferencing with students and prevent interruptions.
You will find all of the resources from this launching writing workshop unit in one, large download at the bottom of the post. The actual lessons are individual downloads. Click on the bold title to download each lesson plan.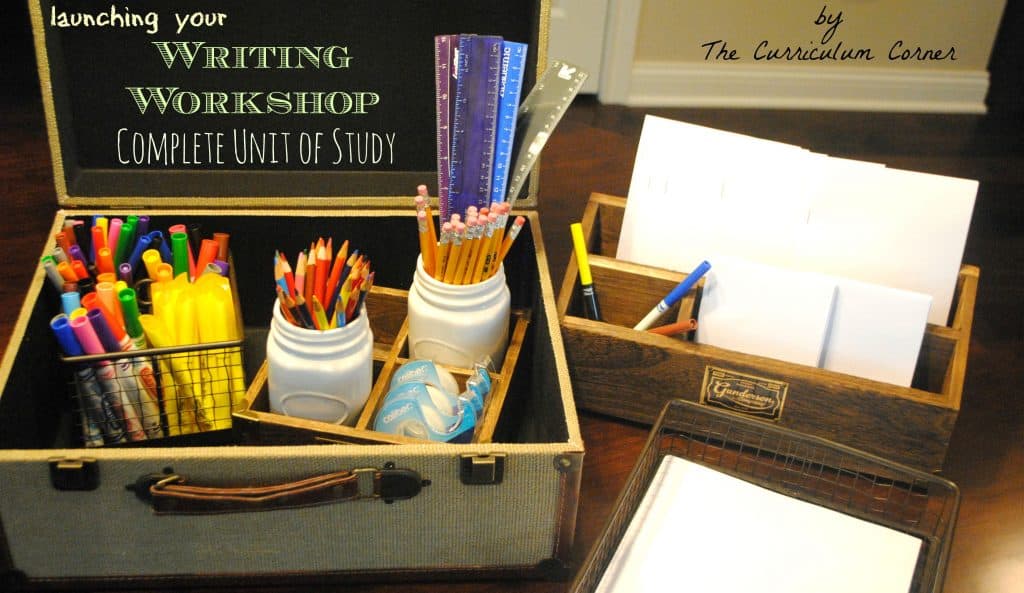 Launching Your Writing Workshop
Writing Journey Bon Voyage Party!!
Another idea to launch your class' writing journey is with a "Bon Voyage" party! Have students bring in books from some of their favorite authors to share why they enjoy that author's particular stories or style.
Share some light refreshments and get ready to become authors!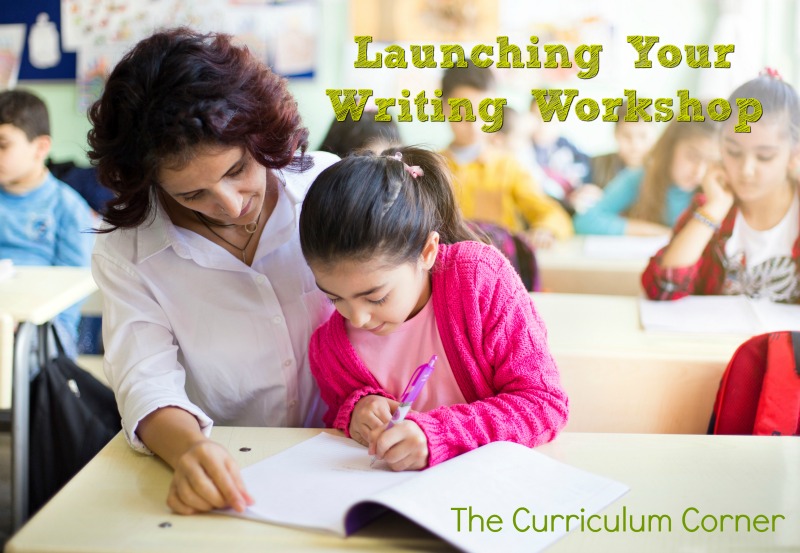 This initial lesson encourages students to brainstorm ideas that they can later use for writing their own books. You will use a stack of real books to discuss topics various authors have chosen to write about and the types of writing that they have written.
The class will talk about different kinds of writing and then students will get a stapled book as a place to keep all of their ideas for writing.
Use the What Can I Write About Anchor Charts for this lesson.
We also have created Packing My Bag With Writing Ideas as a place for students to keep and add ideas all year. (You can choose to have these books pre-made and simply pass them out, or you can have your students cut out fronts and backs for their books that look like real suitcases.)
This lesson takes students on a "tour" of sorts through published books and has them go on a "sightseeing" trip through books to talk about what they notice in the books of published authors – title, author, illustrator, format, illustrations, fonts, etc. After discussion, the students get to use their sightseeing finds as they practice making a book of their own.
This lesson involves a fun idea for organizing and displaying student writing tools that fits the passport theme.
You will need to think through the tools you want available to your writers – pencils, different types of paper and blank books, erasers, markers, crayons, etc.
You will be setting expectations for students for how they should get supplies and find a location to write.
Use our blank Using Our Writing Tools Anchor Chart to brainstorm and set your expectations with your class. If you decide that you would like to have assigned writing seats for your students, this is the time to explain this to the class.
We like to let students choose where they would like to sit. The conversations that occur during writing often spark amazing writing!
This lesson will help students understand the importance of prewriting.
We realize that not all students will prewrite for every story. As we are wanting to familiarize them with the writing process we feel it is important that they are taught about this important step.
This is quite possibly a multiple-day mini-lesson, depending on how you choose to model the use of the graphic organizers you want them to use.
You will find an assortment of Story Planning Organizers in our resource collection.
Whichever prewriting resources you use, it is important to model each one for the students so that they understand how to use them.
***For struggling writers, a good idea for prewriting is to use post-it notes to help them plan. Start with a blank book and a stack of post-its. Have the students tell you their story while you write a few words on each post-it about their story. Stick a post-it on each page. Students use this as their organizer. It is more concrete than the organizers below for students who might need a little extra help.
This is a modeling lesson where you will use your graphic organizer to write a first draft of a story in front of your class.
It is important that they have a teacher model how to write a first draft so that they understand the process. They will see this done several times over the course of the year as you introduce new graphic organizers and turn them into pieces of writing to publish.
Constant modeling is the key to getting your students comfortable with moving from planning into drafting.
We think it is beneficial for students to become familiar with the entire writing process before they actually have to go through all the steps.
In this lesson, you will share all the steps that published authors should go through.
Use our Writing Process Anchor Chart to introduce the steps. This lesson also includes a Writing Passport for students that contains all the steps in the writing process.
As you conference with individual students for the next several weeks, you will be stamping their passports as move through these steps in their own writing.
Part of your launching writing workshop unit of study includes helping children become organized. This lesson gives some ideas and suggestions for helping your students stay organized as they begin to accumulate many pieces of writing.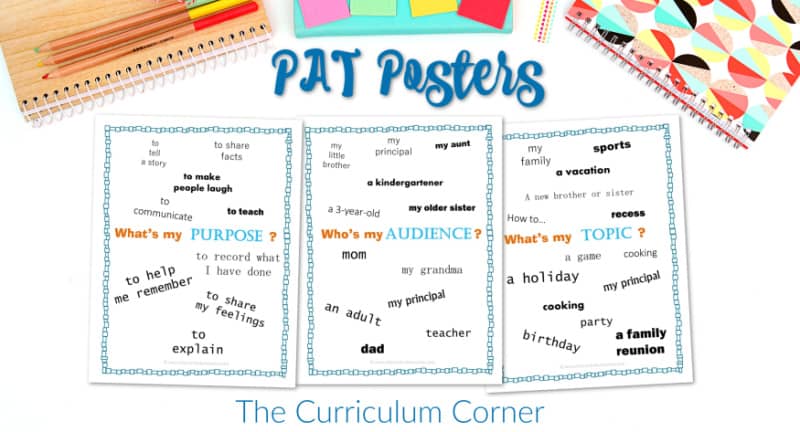 An important part of the writer's workshop is teaching students that there is a purpose for writing – WHY they are writing their piece.
Conferences about different pieces of writing should always include the question "What is the purpose of your story?"
This lesson helps students to learn to focus on and determine a purpose for each piece of their writing.
A second consideration for writers is to think about their audience – WHO it is that they are writing for.
Often students do not think about who they are writing for and how that affects the way that they write. So another question to ask as you conference with students is "Who are you writing this story for?"
This will be an idea you revisit throughout the school year in many different ways as you teach students to write letters, opinion pieces and other types of writing.
Students need to realize that something written for a parent or family member would be different from something written for a teacher or a principal.
A final question that students need to ask themselves is "What is my topic?"
Introducing this idea and working to keep it at the forefront of students' minds helps to provide focus on one idea in their writing. This lesson focuses on brainstorming both ideas for topics of fiction or narrative stories as well as appropriate topics for nonfiction writing.
Use our Topic Anchor Charts which includes charts to record your student ideas for both kinds of writing.
It is important that students know they don't need to spell all words perfectly for their initial drafts. They also need to realize that these pieces must be "readable".
This lesson helps students to remember to use strategies when they are stuck on the spelling of a new word.
It incorporates the use of a Spelling Strategies Visual so that students have a reminder of what to do when they want to spell a word that is tricky.
This lesson introduces students to a Portable Word Wall which they can keep in their folders to use during Writer's Workshop.
When launching your writing workshop, you might be interested in our Portable Word Wall Collection.
Adding words to student's portable word walls should be something that takes place throughout the year.
This lesson has you pulling out an earlier draft of writing to model how a writer might add details to a piece to improve it.
Before presenting this lesson, you might want to think about specific ways that you want students to mark their drafts to add things.
Our idea involves using a brightly colored pen or marker and writing directly on the draft.
We have related the process of creating a plan for nonfiction writing to that of a trip itinerary in this lesson.
Students come to understand the importance of planning and creating a table of contents in advance.
Use our Author's Plan for Informational Text organizer as a place to brainstorm and/or determine a Table of Contents for a piece of informational text.
This lesson teaches students the importance of pictures and diagrams in informational text and how illustrations such as this can help readers to learn new information or make information more clear in a different way.
Also, we used the National Geographic book Sharks! by Anne Schreiber for our lesson but you can choose any nonfiction book as long as it has a few good diagrams to illustrate the point of the lesson.
It is important for students to know that their writing can be improved with the help of their peers and adults.
In Writer's Workshop they will have revision conferences with friends and their teacher. They need to understand that good ideas sometimes come from others and can be added to their original writing to make it even better.
Use the anchor chart called 3 Souvenirs and a Wish.
Editing is also an important step in the writing process. This lesson has you reviewing the revision process and then moving into editing.
You will model a mock editing conference with you and your whole class serving as your editing "partner". You can use the Editing Checklist provided.
We realize that publishing can look very different from classroom to classroom.
This step is important for students in the writing process because it gives them the sense of being a real writer, builds confidence and gives them motivation for moving forward with writing more pieces.
Our Publishing Checklist is one way for students to know when their piece is truly complete – a way to finalize the writing process and give them a sense of accomplishment.
End your launching unit with a celebration of all the students have learned!
Download the launching writing workshop resources described above here:
If you are new to writing workshop, be sure to begin here: