This free student journal will be a great addition to your classroom resources.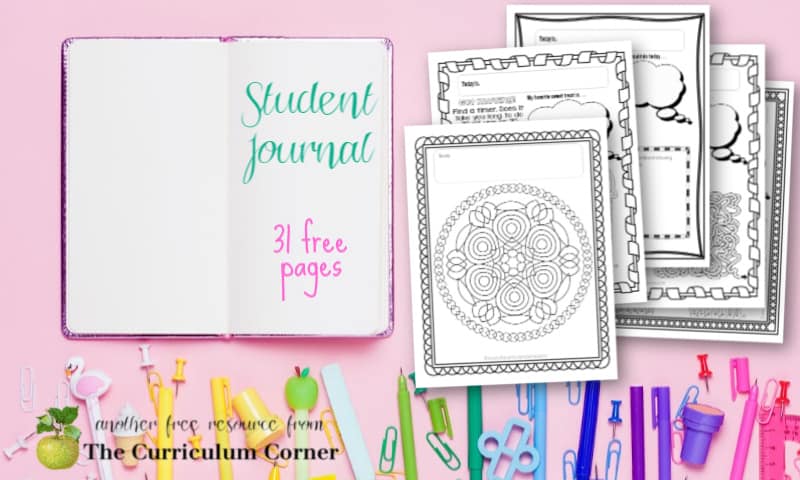 This is another free resource for teachers from The Curriculum Corner.
Our free student journal has been designed to be a creative outlet for your students.
As many schools are heading into the prospect of extended e-learning days, we are working to see how we can support teachers and students.
While e-learning might work for some schools, there are many students who do not have access to the necessary technology. In cases such as these, we have heard that teachers are working to put together packets of work.
We are hoping to help teachers and students by offering options beyond worksheets for students who will be at home for many weeks.
Our Student Journal
This journal is being shared as one possibility. It was inspired by our collection of focus mats. Our focus mats have been one of our most popular resources. Teachers and students have commented that they have been relaxing and engaging.
As a result of the popularity of these mats, we have created a journal that is similar.
There are some writing aspects to the journal but the focus is on engagement and creativity over academics.
Our desire was to create something for students to use as an outlet. Weeks at home without social contact will be hard on many of our children. We wanted to offer you an option that was more than a worksheet.
Using this Resource
There are options for you when using this journal.
If you are planning ahead for extended student leaves, you could copy an assortment of pages for students to choose from. You could then spread out the pages and have students choose 30 or 40 pages to create their own journals. Giving student choice might lead to excitement for the task when students are at home.
At the bottom of this post we are sharing other options for student journals. These pages include comic book style writing pages and lined papers. If you would like, you could also add academic pages such as our no prep sets.
You can download these free student journal here:
If you are looking to add more to your journals, try these:
---
As with all of our resources, The Curriculum Corner creates these for free classroom use. Our products may not be sold. You may print and copy for your personal classroom use. These are also great for home school families!
You may not modify and resell in any form. Please let us know if you have any questions.