This Fry Word PowerPoint or slide show will help you work on sight words with your students.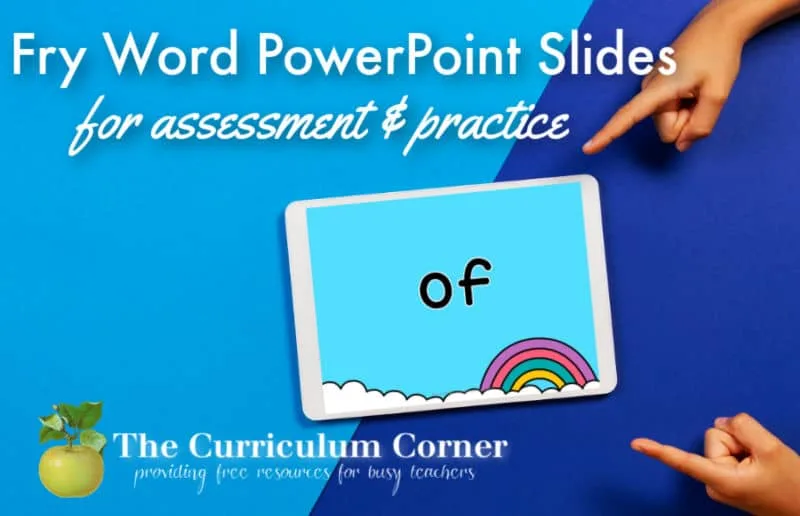 This is another free resource for teachers and families from The Curriculum Corner.
We have created these new Fry Word PowerPoints to help you in the classroom.
With many teachers currently working virtually, we know there is a need for new resources to assist you.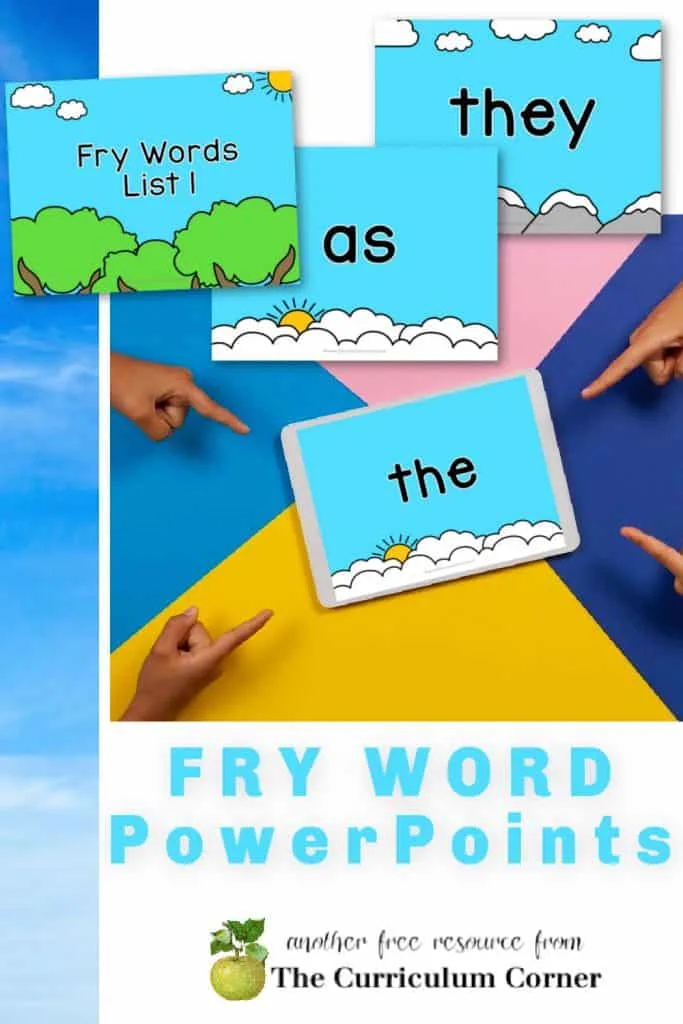 What are Fry Words?
If you are new to sight word instruction, start here!
Fry words are a list of 1,000 of the most common words in the English language. They are found on the list from most common to least common.
These 1,000 words are broken down into ten lists.
You can read more about these sight words here: All About Fry Words.
These Fry Word PowerPoint Slides
There are a total of three PowerPoint files for you to download below.
You will find the words in groups of 100.
The PowerPoints cover the first 300 sight words.
The slides will transition every three seconds. You can adjust this as needed.
How Can These Slides be Used?
Assessment These can be used to assess students in person or virtually. Students can read from the slide instead of a smaller list. These slides are great because there is a single word instead of a busy paper with 100 words.
Whole Group Instruction If you like to review sight words as a class, try these slides! You can display the slides on your interactive board so that all students can easily see the words.
These slides are also portable – you can share on your iPad. This might be a great little meaningful time filler in the hallway when you are in the middle of a transition.
Practice Students can read through the words in a small group for a word work center.
You can download these PowerPoint slides here
Looking for other Fry word resources? Try these:
Thank you to Whimsy Clips for the fun sky backgrounds.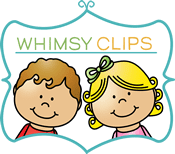 As with all of our resources, The Curriculum Corner creates these for free classroom use. Our products may not be sold. You may print and copy for your personal classroom use. These are also great for home school families!
You may not modify and resell in any form. Please let us know if you have any questions.