Add our selection of PowerPoint Games to your e-learning planning.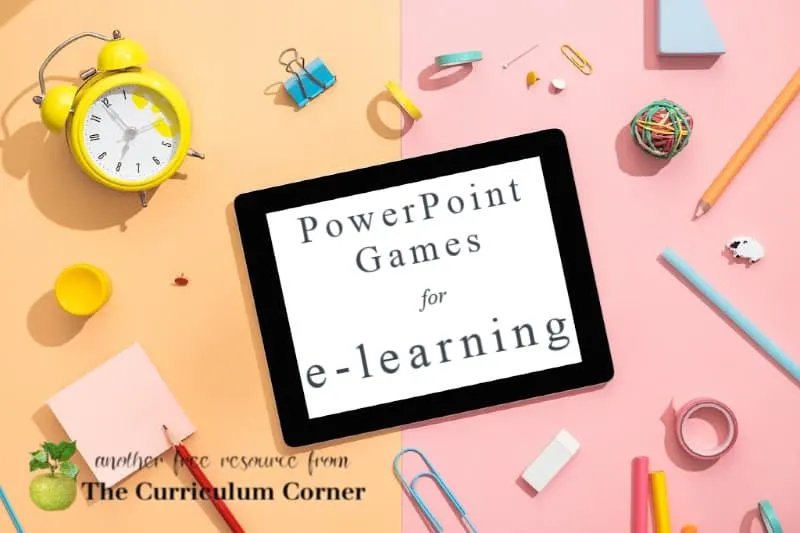 This is another free resource for teachers from The Curriculum Corner.
Our PowerPoint games can be a great, free addition to your e-learning resources.
Just updated in October 2014!
As teachers across the country are preparing for extended e-learning days, we are working to gather resources that might be helpful.
Please continue to share requests and suggestions letting us know how we might help. We will work as quickly as possible to get resources together and shared over the coming weeks.
We need your ideas to know what will be most helpful!
If your school and families are lucky enough to have access to technology, we understand that many schools will be participating in e-learning days.
For those of you who do not have the technology needed, we have a collection for helping you create your own Learning Packets. By clicking the link you will find printable journals, worksheets and graphic organizers that can be printed and sent home.
Below we are including the links to the PowerPoint games we have created. Our original intent was that these would be used on your SmartBoard as a center or morning work activity.
However, these PowerPoint games will also work on an iPad. Because they were not created with this idea in mind, not all of the fonts will display like they do on your computer. We have found that some spacing between words is off depending on the game. They do work the same on an iPad as they do on the computer or your interactive whiteboard.
You will find the Google Slides version here: Google Slides Games
You can download our free PowerPoint games for e-learning below. Click on each image to go to the resource.
---
As with all of our resources, The Curriculum Corner creates these for free classroom use. Our products may not be sold. You may print and copy for your personal classroom use. These are also great for home school families!
You may not modify and resell in any form. Please let us know if you have any questions.