Wondering how to prepare for the new school year? Start here with our free collection!
Not sure how to begin prepping for the upcoming school year? We can help!
This collection is pact with our best free resources to help you decorate and organize your classroom.
Teachers and homeschool families will benefit from these resources.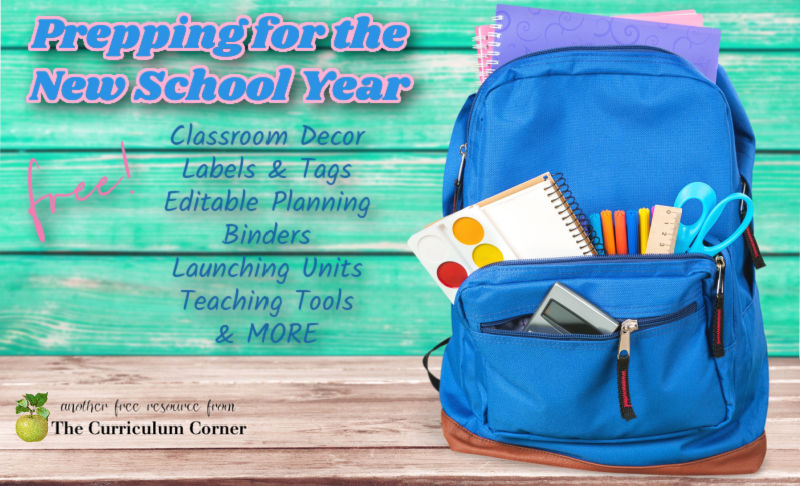 Prep for a smooth school year with these teacher organization tips.
Ready for some major teacher organization help? Looking for tips on organizing your classroom? Start here!
This collection was updated in July of 2022.
We made it to summer! And while teachers are most excited for a little break from the stress of teaching, we also know you are all still thinking about your classroom!
Make sure you take that much needed break before heading back to your classroom. BUT… we also realize that a little time in the classroom organizing over the summer might help for a smoother start once school starts. It's a constant battle between rest and thinking about getting ready.
We don't want you to spend your whole summer getting organized. To help you save time (and money) we've pulled together our favorite organizational resources.
We hope this collection will help you organize quickly so you can get back to relaxing.
This collection of planning binders, classroom décor and more will help you get started with your teacher organization projects.
Tips for Classroom Décor
Remember, your room needs to be what makes you happy. You don't need to compete with the teacher next door.
It's ok not to have a Pinterest perfect classroom – will your students even notice?
Also, it's important that your classroom is not too busy. We don't want the colors and decorations we love to make it difficult for students to focus.
Walls plastered with posters won't add to the learning – instead of creating a whole wall of quotes, choose one that is meaningful and that you think will be meaningful to your students.
---
Still wondering what else you can do to prepare for the new school year? Grab the free resources we are sharing below!
---
Our Favorite Classroom Décor Resources
Labels, Tags & More to help your Teacher Organization
Editable Planning Binders
All of the editable binders you need to maximize your teacher organization system!
Printable Calendar Pages
Need calendar pages to add to your organizational binders? We have created an assortment of themes. These currently go through 2023.
Curriculum Starters
We know you won't do all of your planning of the summer. It might be helpful to save a few starting points for when your first day of school does roll around.
These collections below will help you with setting up your writing workshop, reading workshop and math workshop.
Tools for Teaching
Math tools, Fry word resources, vocabulary work & more! Having these resources in one easy to access spot will be so helpful when you get busy.
Standards
Implementing and tracking standards taught in the classroom can be overwhelming. Use our collection of "I Can" Standards to help you get started.
---
Here are a few of our favorite teacher organization purchases you can find on Amazon. (Contains affiliate links.)
---
As with all of our resources, The Curriculum Corner creates these for free classroom use. Our products may not be sold. You may print and copy for your personal classroom use. These are also great for home school families!
You may not modify and resell in any form. Please let us know if you have any questions.